As teenagers, we all went through that phase where everything in your house looks like a vagina or a penis, depending on your preference -- it's the one thing American Pie got right about the human condition. Most grow out of that phase eventually, while others start companies devoted to turning everyday items into things you can actually fuck, like perverted MacGyvers. If we keep moving in the direction of the unsettling trend set by these devices, the house of the future will be made entirely out of vibrators. Devices like ...
Sex Toys Disguised as Purse Items for a Horny James Bond
The Screaming O
For those familiar with the singular terror of someone going through your purse when you know there's a sex toy in it, the Screaming O Studio Collection is designed to both prevent and amplify this situation -- because if you buy it, everything in your purse will be a sex toy.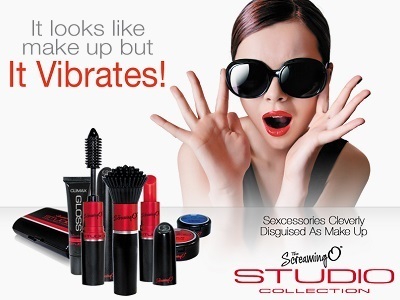 The Screaming O
The words "sexcessories" and "clever" don't belong in the same sentence.
The kit includes vibrators that look like tubes of lipstick and mascara or makeup brushes, which doesn't sound so bad, but then there's the "orgasm-enhancing lip gloss" and "warming and cooling balms disguised as eye shadows." That sort of trickery carries the risk of grave consequences if you mistake your stealth dildo for what it's disguised as. How many embarrassed appointments to the ophthalmologist do you think The Screaming O has been responsible for so far?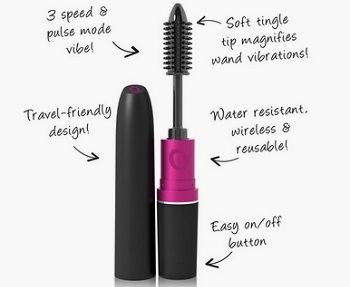 The Screaming O
Conversely, how many careless customers have accidentally applied mascara to their pubes?
What the hell is "orgasm-enhancing lip gloss," anyway? Our investigation has only raised more questions. It appears to be basically Carmex, which you'll recognize as No. 7 on the list of things nobody wants anywhere near their genitals. It comes in cinnamon and mint flavors, which are Nos. 5 and 8, respectively.
Concerns about this product quickly turn from functional to ethical and downright existential. What kind of person needs to carry an assortment of vibrators on them at all times? They probably have little need for discretion but plenty for the kinds of meetings held in church basements where you don't learn anyone's last names. What if your friend needs to touch up their blush and you can't stop them before they unwittingly rub your sex toy all over their face? In some cultures, that means you're married now.
Store Complete Seasons of

Cheers

in Your Handy USB Vibrator
Crave, Inc.
In theory, a USB-rechargeable vibrator is actually a pretty good idea. Ask any single woman you know how much money she spends on batteries, and prepare for some soothing shoulder-patting. There's also the bonus of never running out of juice at an inopportune time (that's what husbands are for), but that's really the logical extent of the functionality. The makers of The Duet, on the other hand, figured that if they were going to make a vibrator that looks and acts like a thumb drive, why not make it an actual thumb drive? The answer, of course, is "so many reasons."
Crave, Inc.
Technically, you're the docking station.
The Duet packs up to 16GB of storage, which is more than the devices some of you are using to read this article. To put that in perspective, that's enough to hold every season of Game of Thrones. You should have strong reservations about sticking that in your crotch, though, if only because it seems like a bad omen. Hasn't poor Theon been through enough already? Some of you are thinking, "Shit, 16 gigs is great! I can store half my porn collection!" Which, yeah, makes sense ... until you realize you can't fucking watch the porn while you masturbate.
Tanchic/iStock/Getty Images
Extension cable sales skyrocketed after The Duet came out.
The Duet is also waterproof for bath-time fun, making it more convenient than that big toaster you've been sticking into your butt up until now. The 16-gig model is going for $250 right now, though, which is quite a bit more than you would spend to get separate flash drives and vibrators with the added value of not being a giant weirdo.