Movies like Noah and the upcoming Ridley Scott epic Exodus: Gods and Kings prove that Hollywood can talk about God while still at least trying to make sense. As anybody who has tuned into TBN at two in the morning can attest, that's not true of most indie Christian movies. Somehow these writers, producers, and directors all took a look at the same source material -- the Bible -- and thought the best way to advocate for Christ was through face-eating madness.
C Me Dance

(2009): The Devil Tries to Stop a Ballerina From Brainwashing the Entire Planet
Uplifting Entertainment
Sheri is a promising ballet dancer, until the day she is diagnosed with a terminal blood disease. She understandably finds herself heading down a dark path, until God pulls her towards the light by having some dude almost rape her. Some folks get a burning bush or see Christ in the grain-whorls of a cracker, others get ...
Uplifting Entertainment
"See? I didn't rape you, so that makes me the good guy!"
But don't worry. Before things can go too far, God yells "Surprise!" and reveals the true purpose of this mental trauma. When Sheri touches her assailant and a few of the bystanders, she discovers that she has the power to turn people Christian. Like a Jehovah's Witness version of King Midas, Sheri converts everyone she comes into contact with. One errant sweep of her wrist, and the target is given a vision of the crucifixion, whereupon they magically accept Christ into their heart. This raises a lot of serious questions. For instance, does it work on animals? We suppose "isn't that robbing people of free will?" may be important, too ...
Sheri then sets out on a modern-day crusade, forcing her religion on any random sucker who crosses her path, all while the devil tries to stop her. Is ... is the devil our protagonist in this film?
Uplifting Entertainment
"My stylist got a little carried away waxing my eyebrows. That doesn't make evil, per se."
This being a Christian flick, the devil of course fails, and eventually Sheri's power grows to the point where all she has to do is look at someone to convert them. At the end of the film, she goes on TV and, shortly before dying from her disease, turns everyone in America into Christians, because in the insane world of C Me Dance, people still watch television.
Fatal Flaw

(2008): Zero Dark God
Red Umbrella Pictures
It hasn't been the best day for family man Jon Ridecher. His crippling gambling addiction caused him to place a large bet on a basketball game -- a bet he lost. Jon's bookies murder him for being unable to pay off his debt instantly. Because that's a sound business plan that all bookies engage in. In the next scene, Jon wakes up in a dark basement.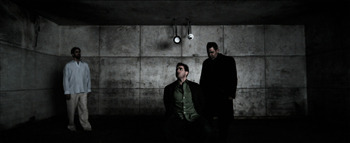 Red Umbrella Pictures
"Huh, I thought murder was totally different."
The basement belongs to God, because even the heavenly palace needs a place to store the washer and dryer. Turns out that God has ordered his angels to torture Jon to get him to admit his sins, all while Jesus stands in the corner and watches like a creeper. They don't even care about Jon's gambling problem. Instead, the angelic "bad cop" is much more interested in completely trivial mistakes Jon made as a child, like being forced by some bullies to say mean things about a girl he liked. Yup: Jon is getting tortured for losing a fight as a kid.
Red Umbrella Pictures
"I had 20 bucks on you that time!"
Next, the interrogator brings up an affair Jon had. We see a vision of him at a bar, flirting with a pretty blonde. Moments later, the two of them are getting busy in a convertible.
Red Umbrella Pictures
The official body style of infidelity.
Except it turns out that he only imagined it. According to the Bible, looking at another person with lust is the same as actual adultery, so while Jon did not cheat on his wife physically, having an active imagination is just as bad. Waterboarding bad.
Red Umbrella Pictures
"Hey Jesus, why do you have a tattoo of a bloodhound on your arm?"
Thankfully, Jon is allowed to return to his wife, after Jesus jumps in front of the bullet meant for him, as if he's the guy two days from retirement in a cop movie. And Jon learns a valuable lesson about Christianity in the best way possible: through holy torture.