Don't be fooled by stories about 19th-Century movie audiences losing their shit because they thought that footage of a moving train was going to run them over. Early cinema could get bizarrely hardcore and hardcorely bizarre, even by today's standards. In fact, many of the very earliest films still manage to put modern horror movies to shame. For instance ...
The Execution Of Mary Stuart

(1895)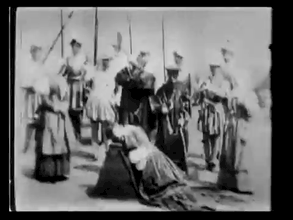 Edison Manufacturing Company
The Danny Trejo remake RUINED every '90s kid's childhood.
That clip is from freaking 1895 -- when film was brand spanking new and people were amazed by any random shit you could project onto a white sheet. But while most early filmmakers chose to shoot boring real-life events, like people walking or a baby being fed, Thomas Edison wanted to go right for the torture porn. Look, the guy was ahead of his time, okay?
Herbert Hoover Library
"And Mary's a head on the floor! Ha ha! Someone fetch a basket."
So he hired a director, gathered a bunch of actors, and recreated the 1587 beheading of Mary Stuart from start to uncensored-head-rolling finish (shit, even Game of Thrones cut away before that blade hit Sean Bean's neck). The 18-second film actually features the first trick edit, at the moment when the actress playing Mary is replaced with a mannequin. Normally we wouldn't bother pointing out that a movie didn't actually kill one of its actors, but when you're talking about a movie produced by a guy who was absolutely willing to publicly execute animals in order to sell his inventions, anything is possible.
Monopol Film Company
Mary's back, and it's time for payback.
An adaptation of Dante's Divine Comedy, L'Inferno was Italy's earliest feature-length movie. It made use of many pioneering and sanity-noogie-ing special effects, which actually makes a lot of sense for a country that later gave us Salo and Cannibal Holocaust. Mostly set in Hell, the movie is full of shocking-for-the-1910s imagery, such as a decapitated man carrying his own head, the torture of people buried up to their necks in the ground ...
Monopol Film Company
"Try scratching your nose now, damned soul!"
...and demons whipping a bunch of scared naked people.
Monopol Film Company
In the ninth circle of Hell, your safe word means nothing.
Of course, all of those scenes pale in comparison to the final image of a big-ass, three-mouthed Satan sitting on the horizon and munching on the bodies of Brutus and Cassius.
Monopol Film Company

Monopol Film Company
"What? I washed them first."