Your average small-town newspaper -- assuming it's still in publication -- is approximately 50 percent obituaries, 28 percent advertisements for soup, 13 percent typo-riddled ads for the local high school musical (this year's production is "Gays And Dulls"), and 8 percent raccoon attacks.
But what about that final 1 percent? It's reserved for the kind of psyche-flaying local news that's normally seen only in the type of X-Files plots where Mulder gets so jazzed up his behavior threatens to get the FBI sued out of existence. (Oh, wait, that's every episode.)
Wiggling Terror Fish Are Falling From The Sky In Alaska
M. Buschmann / Wiki Commons
You've heard the expression "It's raining cats and dogs." Well, in the frozen wastelands of Alaska, it's raining Lovecraftian shitspawn fruits de mer. The first demon tube popped up in a thrift store parking lot outside Fairbanks. We imagine a store employee walking to his car for a smoke, when he looked down and saw a snake-worm-fish-creature chilling on the asphalt. Not only was the animal alive, it looked like this:
Alaska Department Of Fish And Game
"HI, LAND FUCKERS!"
Shockingly, someone at the store had the good sense to assume this thing was a fish and not one of the Devil's fingers that became sentient, amputated itself from Satan's hand, and dug its way up to ground level to start a new Hell in Alaska. Store employees put the jawless bloodsucker into a bucket of water and reported it to the Alaska Department Of Fish And Game, which identified the beast as an arctic lamprey. And then someone realized these fish were spotted on land in three other spots in Alaska. Arctic lampreys, in case you're wondering, are parasitic animals who use their vampiric fangs to dig into other animals. The fact that they're popping up on land should alarm no one at all.
Alaska Department Of Fish And Game
"Coming to cineplexes in 2016, it's UNDERWATER CYLINDER DRACULA!"
It turns out, the explanation for land lampreys was just as spooky as the animals themselves. Tired of being spurned by humanity when all they want is a little bit of bread, it was seagulls who dropped the things onto land. Coordinated lamprey strikes against humanity didn't end up wiping any residents out, but we should all be nervous that birds and fish are now working together, like if Hitchcock woke up one day stupid as hell, wrote a sequel to The Birds about fish and birds, and just flat-out named that shit Fish And Birds.
RugliG/iStock/Getty Images
"What happens when you combine the wisdom of the bird with the duplicity of the fish?
FISH. AND. BIRDS. Christmas 2018."
Family Finds Old Box In Attic Containing A Treasure Map (And A Human Hand)
WFLA
Attics are bad news, guys. Unless you feel like catching up with your long-imprisoned evil twin who's spent the past few decades eating mice and Sorry! pieces, there's nothing worthwhile up there. But for one Florida family, cleaning out their grandparents' attic yielded skeletons in the closet. Or just a hand in a box. Seriously, there was a hand up there.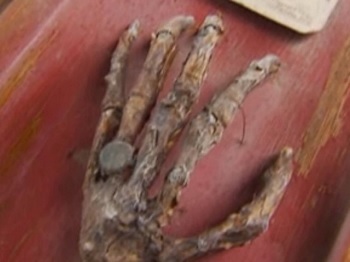 WFLA / CNN
"Be thankful, kids. We didn't have blow-up dolls and Fleshlights -- we had to make do."
For reasons that have yet to be discovered, a Tampa woman was cleaning out her grandparents' attic when she discovered a cool box. Shockingly, the woman wasn't even looking for meth money or a hidden birth certificate proving she was a Kennedy -- she was cleaning her grandparents' attic just because people are apparently nice sometimes. Things took a turn for the Scooby-Doo when she opened the box and found a ringed skeleton hand, a set of Spanish coins, a treasure map, and a picture of her great-grandparents.
WFLA / CNN
It's the gritty setup for the Goonies reboot that ends with seven children on a milk carton.
The family claimed they didn't know anything about the box or the starter voodoo kit inside it, so they took it to the Tampa Bay History Center to receive some answers. The knowledgeable representative revealed the hidden secrets of the box to end the ordeal: "Well, it certainly is a hand." With the mystery solved entirely satisfactorily, everybody went home.