Despite the fact that we already published an article about awesome ways hostages have freed themselves from their captors, kidnappings are still happening in the world. Dammit, we got into the dick joke business to make a difference. This is just unacceptable. We won't stop until kidnappers everywhere are too worried about their victims making them look like jackasses to ever nap a kid again. To that end:
Benedict Cumberbatch Acts His Way Out of a Kidnapping Attempt
BBC
Benedict Cumberbatch's greatest performance? Convincing humanity he's not a poorly disguised giant grasshopper scouting the Earth for invasion by the Rigeloids. Second greatest performance? The time he talked his kidnappers into freeing him.
Back in 2005, Cumberbatch was in South Africa filming the TV miniseries To the Ends of the Earth. One evening, after an exhausting night of hard Cumbering, he and his friends were driving back when their tire blew out.
Frazer Harrison/Getty Entertainment/Getty
The rubber couldn't support Cumberbatch's massive girth.
To get to the spare, they needed to take all of their luggage out and pile it on the side of the road, which basically put up a reverse Bat-signal. Local criminals saw it and came running. A gang of six South Africans held the group at gunpoint and demanded money, weapons, and drugs. With little cash, less marijuana, and no deadly weapons (besides those chiseled cheekbones), Cumberbatch and friends were out of luck. They were thrown into a car and driven off. Cumberbatch complained that being tied up was interfering with his circulation (the most British response to a kidnapping ever), so the gang pulled over, took him out and began stuffing him in the trunk. That's when he had an idea.
He started ticking off numerous brain and heart problems he was suffering from -- including, apparently, a condition called "dying if I get locked inside a trunk." He told them, "I will die, possibly have a fit, and it will be a problem for you. I will be a dead Englishman in your car. Not good."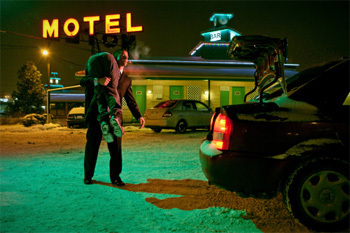 FelixRenaud/iStock/Getty Images
That Brit-corpse scent really sticks to the upholstery.
This, of course, was all a lie. Or, as it's called when beautiful people do it: acting. The kidnappers thought about it for a while and finally agreed. Cumberbatch and his friends were released. All because of the power of acting, and the fact that a dead Englishman is indeed terrible for the resale value of any vehicle.
Kosuke Tsuneoka Tricks His Captors Into Letting Him Send for Help
via Viral Technologies
Oof. People who live-tweet things, right? Especially those clods that do it at inappropriate moments. All hashtagging funerals, weddings, their own kidnappings -- put down the phone and be present, people.
Wait, what was that last one?
Yep. Japanese journalist Kosuke Tsuneoka live-tweeted his own kidnapping.
twitter.com/shamilsh
He got lucky, or he would have been dead-tweeting his own kidnapping.
In April 2010, Kosuke, a war correspondent, was working in the Taliban-controlled Afghanistan city of Kunduz when he was nabbed by the insurgent group Hezbi Islami. He says he was fed and treated well by the kidnappers, except for the part where they threatened to kill him if the Japanese government didn't send them large amounts of money (nothing puts a damper on the festivities like death threats). After five months of this, he was getting desperate. Then salvation came. In a Nokia box.
PÃ¥l Berge
At first he feared they'd use it to beat him into submission.
One of the kidnappers got a new Nokia N70 phone and didn't know how to set it up, but he assumed that Kosuke, a Japanese guy, might. Is it still racist if it's true? What about if it saves somebody's life?
Kosuke talked to the soldier about this wonderful thing called Internet, which the soldier had never seen before. On the promise of free Al Jazeera broadcasts and all the infidel porn they could download, the abductors even allowed the reporter to call customer service and set up a web connection. The kidnappers also let him load Twitter, but rather than setting up accounts for them (@caliphatersgonnaphate was taken anyway), Kosuke accessed his own account and let the world know he was still alive. Seven minutes later, he also tweeted his location and the name of his kidnapper.
twitter.com/shamilsh
He'd have attached a selfie, but he wasn't that desperate for attention.
Kosuke was free to go the very next day. His abductors claimed he was released due to his having converted to the Islamic religion, but smart money is on their plans being blown wide open. Or maybe they were just grateful he opened their eyes to a whole new world of tits and cat memes.