It's possible for genre spoof movies to be funny. Naked Gun proved that. Some would argue that being funny is the point of a spoof. But after stealing a copy of the Jason Friedberg and Aaron Seltzer genre spoof Meet The Spartans, I found myself so entranced that I did the unthinkable: I watched Epic Movie, Disaster Movie, and Superhero Movie.
All of these movies have several incredible things in common with each other. The most impressive is the fact that none of them feature any jokes. Not. One. Joke. They have references to other movies, commercials and pop culture phenomena, sure, but they don't even try to make humorous observations about them. For instance:
Indiana Jones And The Kingdom of I Feel Like I'm Taking Crazy Pills
Disaster Movie features one particular scene "lampooning" Indiana Jones and the Kingdom of the Crystal Skull that for some reason takes place on the set of Indiana Jones and the Raiders of the Lost Ark. The characters look at a cave wall and see the shadow of a figure putting on the trademark Indiana Jones hat as the Indy theme swells up. We zoom out and we realize we were tricked! It's not Indiana Jones at all, but the black midget from Bad Santa.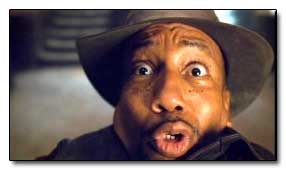 "You're Indiana Jones?" asks one of the main characters. "Indiana Jones, my ass!" the midget responds, then he proceeds to poorly use his whip and then get slammed into a wall. And that is the end. That is the entire scene. And that is what's so fascinating about these movies. In a bad comedy, that exchange might go: "You're Indiana Jones?" asks one of the main characters. "No," the midget says. "I'm Rhode Island Jones." That would be a joke. Because it's another state and he's MOTHERFUCKING TINY! Sure, it's not a very good joke, but at least it's a joke. If I thought about it for more than five seconds, I might have even been able to come up with something better but I'm not a "successful" screenwriter, so I won't waste my time--just like Jason Friedberg and Aaron Seltzer didn't waste theirs.
But they are not simply doing a bad job. They are not doing a job at all. They are comedy writers who haven't even bothered to write comedy. This is unprecedented, not just in the film world, but in the entire history of employment. And this is not one scene in one movie. It is every scene in every movie they have ever made. Don't believe me?
You Can Tell They're Thinking About Making a Joke ...
There is another specific scene from Disaster Movie that deserves your attention, but I feel like you've had enough for now, so let's briefly (yeah, right) move on to Superhero Movie. This scene involves that Topher Grace-looking motherfucker from Date Movie and Epic Movie playing a mutant quite similar to the mutant Angel (but with a hilarious twist!). [Editor's Note: This scene is actually from Epic Movie. We decided not to tell Cody or correct the mistake because no one would have even realized if we hadn't pointed this out, right now.]
He begins the scene hitting on the Mystique character played by Carmen Electra, who I'm pretty sure is the most bangable woman on the planet with also the worst sense of humor on the planet, because she has huge tits and she has so far appeared in Scary Movie, Superhero Movie, Date Movie, Scary Movie 4, Epic Movie, Meet The Spartans and Disaster Movie (she was not in Not Another Teen Movie, though, because that was actually pretty funny).
Anyway, the Topher Grace-looking motherfucker asks her out and she literally says "As if!" Cue the entrance of Faux-Wolverine, Faux-Storm, Faux-Rouge and Faux-Cyclops, who all look surprisingly accurate except for the fact that Cyclops's sunglasses aren't red, which doesn't make any fucking sense.
Faux-Wolverine, of course, gives the Topher Grace-looking motherfucker the business because Wolverine's dating Mystique for some reason, and then walks away. The Topher Grace-looking motherfucker delivers a real zinger as they walk away, shouting "Asshole!" You shouldn't have said that, Topher Grace-looking motherfucker, because you just made Wolverine angry, and you wouldn't like Wolverine when he's angry. They didn't actually say this in the movie, of course, but I figured they might as well have because they're so awful at making things accurate in this piece of shit that they should have gone the extra mile and fucked up the characters' catchphrases. At least then I might have actually laughed. I wish Mystique had called everyone "Bub."
So as angry Faux-Wolverine turns around, he extends his Adamantium claws and... wait for it... here comes the joke... he puts the two outside claws back in so it looks like he's giving the Topher Grace-looking motherfucker the finger!
Oh, wait, that's not a joke, because Wolverine ALREADY DID THAT IN THE FIRST X-MEN MOVIE! The Topher Grace-looking motherfucker's response to this is to use his powers. Everyone gets ready for a fight as a worried Faux-Storm shouts, "He's gonna sprout angel wings!" (because that alone is terrifying, right?... God, Angel sucks... ). He doesn't sprout angel wings, though. He clucks and then sprouts chicken wings. "More like chicken wings," chides Mystique, quite cleverly, and they all laugh louder, because the joke here is that a character stated what we the audience just saw happen. Comedy gold at its goldest.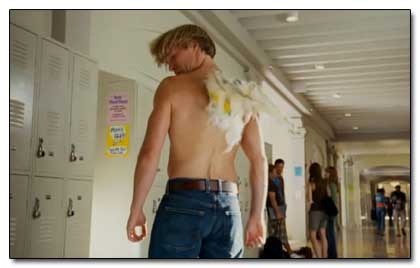 Another problem facing these movies (that is closely tied to the lack of jokes) is the overwhelming use of references, hence "reference movie." Every second of each film is a reference to another, better movie. They do not make jokes about these movies. They simply present the movie as it was originally seen and then throw in a quick commercial for Pepsi, a dance-off or a moment where a head-shaven Britney Spears sings to a doll. Again, no jokes. Just things we recognize as things. Disaster Movie does this perhaps the most beautifully by having the main characters be the main chick from Enchanted, Juno from Juno and who I THINK is supposed to be Fat Albert (Because we all saw the Fat Albert movie, right?). These characters from movies that are not disaster movies go on an adventure experiencing disasters that are from disaster movies.