We suspect that every military has a secret room full of stoned dudes who stare at the ceiling and just dream up shit to build. The difference is they have billions of dollars to make their dreams reality.
In support of our "secret room full of stoned dudes" theory, we offer the following actual military projects that stretch the limits of the non-stoned imagination:
Working on the premise any weapon is cooler if it flies in the night on leathery wings, Bat Bombs were proposed by a dental surgeon in the '40s. Naturally the President thought it was awesome so a plan was rolled out to make the night unsafe for anyone that didn't want to have small explosives get stuck in their hair.
The Plan:
Because bats can carry a good amount of weight and tend to sneak into buildings and such, the plan was to make an army of flying rodent suicide bombers and release them over Japan. The little fellas had small napalm explosive kits made for them, which were probably the cutest incendiary devices ever, and then cases were constructed that would be dropped from B-29s, releasing the bats.
At dawn, they'd flee to buildings until the timers on their little bombs went off. So far, so fucking crazy.
What went wrong:
Things got sketchy when some armed bats were accidentally released and set up shop under a fuel tank on an Air Force base. So, yeah, that burnt to the ground. But, hey, it proved the damn things worked, so the people involved looked at that as a silver lining.
Given that the bomb casings they'd made for the bats could hold over 1,000 bats, they assumed just one bomber could hold up to 200,000 little flaming night terrors and some initial test data concluded these bat bombs were actually superior to regular fire bombs.
But after a couple million bucks in funding, the plan was scrapped. The plan was moving forward too slowly, the bats were unpredictable and the guys at the Manhattan Project were talking about having some kind of miracle bomb that could do the work of like, a million bats.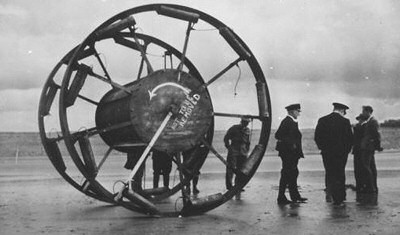 Getting through enemy fortifications is always tough, what with their insistence on constructing defenses out of stone and other non-meringue based substances. Sometimes conventional weapons just can't break through, and such was the case with the concrete defenses that were part of the Third Reich's Atlantic Wall that ran up and down the west coast of the European continent. So the Brits came up with the Panjandrum, insanity's answer to "what could we do to make explosives more dangerous?"
The Plan:
So how do you get a tank-sized hole in a concrete wall? Well, they created two giant, wooden wheels joined by a central drum stuffed with explosives. On each wheel they strapped rockets as a means to propel it forward at speeds of about 60 miles an hour. Life imitates art, and sometimes military life imitates Wile E. Coyote cartoons.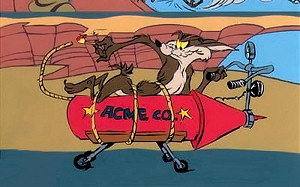 What went wrong:
You can probably guess. The rockets that moved the thing had a habit of flying off during tests, sending the entire structure off course, which we're thinking created a number of safety issues. After adding more rockets and another wheel, it was tested again and this time it turned right back to sea.
Finally, after many tweaks, it was ready to be tested in front of Navy officials, scientists and journalists. How could this go wrong?
The ridiculous thing started rolling off as planned, but then like a drunken hussy with vertigo on a dance floor, it started careening all over the place before making a beeline for the assembled Navy brass, discarding rockets and wobbling around before thankfully collapsing and exploding. Moments later, the Roadrunner went zipping by.