fatwa n. a legal opinion or decree handed down by an Islamic religious leader (Merriam-Websters Online)
Every time you turn around, a Muslim cleric is issuing a religious edict (fatwa) about something. Whether it's giving fellow Muslims permission to murder blasphemers or preventing children from getting polio vaccinations because it's a Jewish conspiracy, these guys have an opinion and they're more than willing to share it.
To us (and many Muslims, in fact) these rulings come off as batshit crazy. And yet, amidst all that zany murderousness, they sometimes issue a fatwa that startles us with their clarity and insight. Here are some real, actual fatwas that we're ready to get on board with.
THOU SHALT NOT speak while relieving yourself.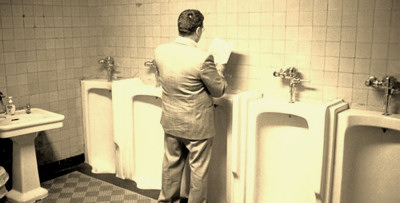 The Fatwa Department Research Committee, chaired by Sheikh 'Abd al-Wahhab al-Turayri says that speaking while pissing is only acceptable under special circumstances (e.g. asking for water to clean yourself). He cites as support the following indirect quote from the prophet, "Two men should not go to relieve themselves, exposing their private parts, and then be talking to each other, since Allah hates that."
" ... And I have to live with him," is the sassy follow-up that we like to imagine. We also like to imagine how "asking for water to clean yourself" would go over in the restroom of your average American sports bar (Hint: not so much).
Why we're on board:

Say you walk into the bathroom of said sports bar. The place is empty, so you pick out a stall at the far end, next to the wall so as to minimize any potential man-on-man adjacency. Just as you unfurl General Kong, some douchebag that you vaguely recognize from high school walks in. He sees you, smiles, and starts up a conversation.
Son of a bitch. This is YOUR time to commune (i.e. compare existential wangs) with the big man upstairs. The last thing you want to do is make awkward small talk with your junk exposed. Under the current rules, you look like an uptight asshole if you ignore the guy.
Under the new rule, you can, nay must, remain stone-faced and silent. Further, Captain Chatterbox would have to have balls of steel to even try it in the first place. If you think there is some sort of tedious and sober procedure for vetting impulse death sentences, allow us to burst your bubble: one call to 1-800-FATWA is all it would take to request that a hit be put out on his ass.
THOU SHALT NOT play soccer.
"Soccer is forbidden except when played as training for jihad," says the Saudi Sheikh Abdallah Al-Najdi. Since we don't ever plan on engaging in 'holy war' or any such struggle, we guess that means no soccer for us if we choose to accept the fatwa. Dang.
Why we're on board:

Granted, Zidane head-butting that punk was deliciously retarded, and that 'Goooaaaal!' guy of indeterminate ethnicity is entertaining. Too bad the sport that he is so passionate about isn't. Low scores, tie games, and dudes ripping off their shirts are the norm (that last one is only acceptable for Hulk Hogan, and to a lesser extent, the Ultimate Warrior).
The only thing that's mildly entertaining about soccer is tangentially related to the game: drunken hooliganism. We have that in North America too, except that we call it rioting and instead of beating the soccer-induced boredom out of each other with our fists, we steal television sets.
It isn't just the game's intrinsic lack of appeal either. We can tolerate a lot of peripheral distractions in our sports: rampant use of steroids, human growth hormone and cliches. However, we cannot in good conscience condone a sport where teams practice faking injuries at practice. If we want our kids to learn such pansy-ish ways, we'll send them to a boarding school in France.
That said, we wanted to issue this fatwa simply as a preemptive measure against David Beckham's impending popularity.