For as long as there has been religion, there's been someone hawking religious crap to scam a buck off the devout. But once the market becomes saturated with tasteful silver crosses and Star of David pendants, retailers had to find more exotic fare to tempt the faithful.
And so began a downward spiral of crass and downright sacrilegious merchandise that is certain to call down the wrath of the almighty Himself.
Crazy cat ladies transcend religious barriers--it's really a unifying theme of humanity. As such, when Chanukah rolls around, those Jewish crazy cat ladies bust out Ketzel. It's the one time of year that Judaism really lends itself to lighting a nightmarish looking blue cat in a bow tie on fire for several days.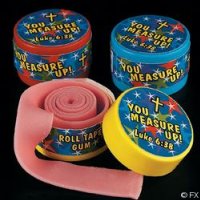 For those not able to bring up Biblical verse off the top of their heads, this is Luke 6:38:
Give, and it will be given to you. A good measure, pressed down, shaken together and running over, will be poured into your lap. For with the measure you use, it will be measured to you.
Yes, today the Lord has heaped upon us this blessing of bubblegum tape.