With so many products and brands out there in today's marketplace, it's easy to get confused. Really, the only way to make wise buying decisions is to see which product features the likeness of your favorite rapper, or wrestler. They would never lead you astray, would they?
Rap Snacks--Dirt McGirt Potato Chips
Celebrity Offender: Old Dirty Bastard AKA Dirt McGirt
If you're wondering who in the blue hell "Dirt McGirt" is, he's the Old Dirty Bastard (ODB) from the highly-regarded and innovative rap super group the Wu-Tang Clan. ODB was his own man. ODB would do things like take a limo to the welfare office to pick up his check while his album was still on the Top 10 charts, all while being filmed by MTV. So either ODB had the biggest set of balls you've ever seen, or he was just batshit crazy. OK, he was just batshit crazy.
The Bastardly one had an arrest record longer than your arm, consisting of assault and battery, failure to pay child support, possession of crack, home-invasion robbery, attempted murder and several other crimes they hadn't invented laws for yet. Naturally, this made ODB the perfect candidate for his very own posthumously released potato chip, displaying the inspirational message "Think Responsibly." Because if anyone is a spokesperson for thinking responsibly, it's a lifetime criminal who died of a drug overdose.
Jeff Foxworthy Beef Jerky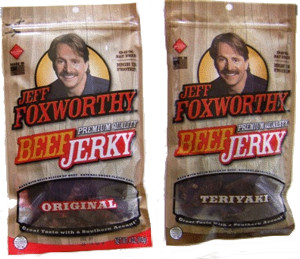 Celebrity Offender: Jeff Foxworthy
If you ever see this jerky on the shelf while walking around your local Wal-Mart or truck stop, don't get too excited. They didn't ACTUALLY kill Jeff Foxworthy and turn his flesh into a tasty dehydrated treat, he just decided to put his name and mustachioed face on a product sure to delight ages 5 to 60, and IQ scores 70 to 75.
Foxworthy is the southern comedian that made a name for himself by making fun of rednecks, much to the delight of, well, rednecks for some reason. Even the packaging lets you know that "If you eat this, you might be a redneck." So basically, you're paying Jeff Foxworthy to insult you (again), placing his product right alongside "Have Another Donut, Fatass" brand donuts.