It used to be easy to name your sports team; just pick a dangerous animal and go. Unfortunately, there are way more sports teams in the world than there are cool animals, and the result is a lot of names that range from lame to laugh-out-loud retarded.
Made-Up Words
Winner:

Webster University Gorloks
(College)
Runners Up:
Hamilton Tiger-Cats (CFL)
Key School Obezags (High school)
Toronto Maple Leafs (NHL)
Breakdown:
From the Webster University website: "The Gorlok is Webster University's school mascot. It is a mythical creature that was designed by Webster staff and students through a school contest. It is reported to have the paws of a speeding cheetah, horns of a fierce buffalo, and the face of a dependable Saint Bernard."
The design team lovingly followed the instructions to the letter and came up with a lion: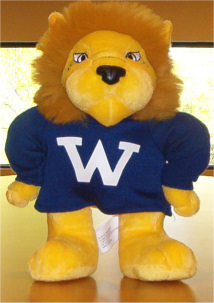 The Key School Obezags meanwhile, have cleverly made an anagram of the word "gazebo," which would make no sense unless you knew that the school has a sort of obsession with gazebos, which it does. They don't seem to have a mascot, but with a name like "Obezags" they could have let their imaginations run wild and made it a ferocious clown with a barracuda for a penis. The merchandising would bring the school millions.
Meanwhile, Canada continues to have problems with words, inventing the puzzling "Tiger-Cats," and willfully pluralizing "leaves" wrong. This is a point of "dishonour" to their school system.
Trying Too Hard To Be Hip
Winner: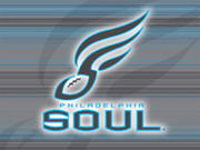 Philadelphia Soul
(Arena Football League)
Runners Up:
South Dakota School of Mines HardRockers (College)
Indianapolis NW Space Pioneers (High school)
Cleveland Rockers (WNBA, defuncT)
Swing of the Quad Cities (Minor League Baseball)
Breakdown:
"Soul" in this case doesn't refer to the eternal essence of self that many believe humans possess. Rather, it's a style of popular music in the 1970s known as Philadelphia Soul, making it highly relevant when this expansion team opened in 2004. This team was actually co-founded by Jon Bon Jovi, who is to soul what Arena football is to football.

Jon Bon Jovi, as relevant and hip as the team he co-owns.
The South Dakota School of Mines HardRockers and the defunct Cleveland Rockers of the WNBA do have legitimate connections for their wannabe-hip-sounding names. One is a pun on the school's mining focus; the other is located near the Rock and Roll Hall of Fame. However, they both end up reminding you of when a company tries to put forward a mascot with a backwards baseball cap, a skateboard and some kind of crazy-shaped electric guitar to appeal to "kids today."
The Indianapolis NW Space Pioneers, meanwhile, had the bad fortune to tie its name to the hot current event in the '60s, the space race, and have not mustered the energy to change it since.
Whoever renamed their team the "Swing of the Quad Cities" was obviously trying to go for something hip and fresh, but unfortunately swing is only hip and fresh to a demographic that is, for the most part, now dead.