11 "Wholesome" Brands And Occupations That Were Caught Relying On Child Labor
We all want to believe that the brands we buy from are ethical and responsible, but unfortunately, this isn't always the case. From McDonald's to Cadbury to Starbucks, there are some brands out there that are using child labor, and we'd never expect it from them.
Click right here to get the best of Cracked sent to your inbox.
This list is a compilation of some of the most egregious examples of child labor violations in the corporate world. From McDonald's getting fined for having a 15-year-old use a deep fryer to a meat processing company's plant clean-up provider being asked to stop hiring any workers under 18 years old, these stories are a reminder that child labor is not only highly wrong, but it's also illegal.
In this list, we'll be taking a look at 11 brands that are using child labor, and the shocking stories behind them. From underage workers in the meat industry to kids working on cocoa farms in Ghana, these stories will (hopefully) make you think twice about where your money is going.
Child labor in the palm oil industry: not cool.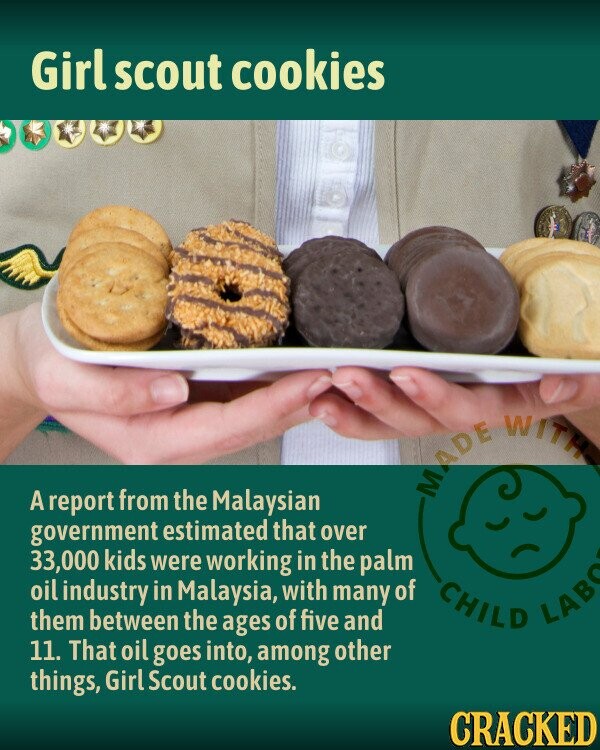 Chocolate, with a side of exploitation.
Students: the new unpaid labor force.
McDonald's: not kid-friendly.
Child labor, million-dollar penalty.
Latte for labor.
Underage workers: not allowed.
Cleaning up their mess, literally.
Child labor confirmed at Hyundai supplier.
Twelve Tribes: Breaking child labor laws.
Cadbury accused of child labor exploitation.