15 Beloved Celebrities Who Were Widely Hated at One Time (And Vice Versa)
Ah, celebrity fame: it can be a fickle thing. One moment you're a beloved star, the next you're being booed off the stage. But some celebrities have been able to withstand the test of time, and even turn their worst moments into their greatest successes.
Take Tony Hawk, for example. In the early days of his career, he was met with boos and criticism from all sides. But he didn't give up and eventually became a world-renowned skateboarder. Then there's Britney Spears, whose every move in 2007 was followed by the media, and even Family Feud wanted to get in on the scoop. Justin Bieber was part of the first group of celebrities to grow up in the age of social media, and he got a lot of criticism for it.

So, let's take a look at the celebrities who have gone from being hated to being admired, from boos to billboards.
Sly's rise to fame had a rough start.
From prison to superhero -- Robert Downey Jr. sure made a comeback.
Rihanna: 1, Haters: 0
2007: When even 'Family Feud' needed the scoop on Britney.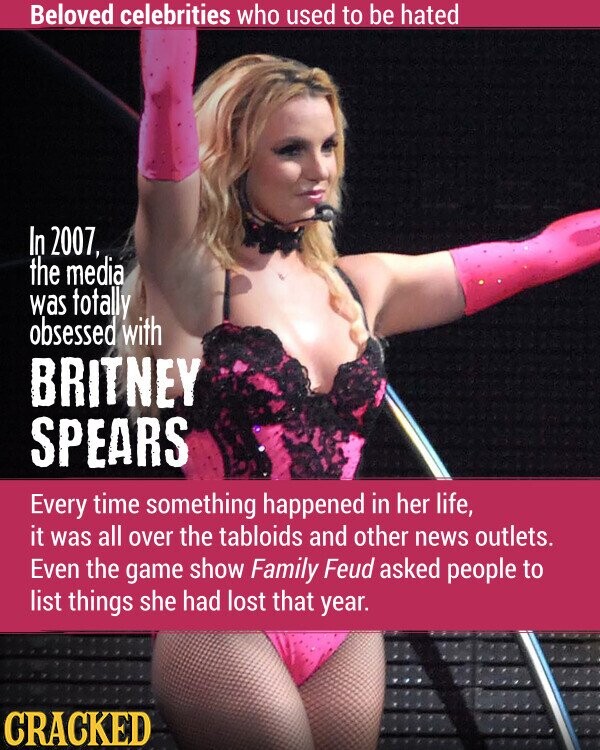 Act like an actor, get beat up.
From boos to billboards.
Hugh Grant: Giving a whole new meaning to the term "cringe comedy."
Gaga insists she was wearing her heart (and some steaks) on her sleeve.
Sticking to the truth got her in trouble -- but look how far she's come.
13 and famous.
Guess she had the last laugh.
Twerking up a storm.