31 Facts About the Goofiest So Bad They're Good Movies
What makes a movie good? Moving performances from highly paid actors? Clever use of the camera to convey information in a purposeful way? The use of music to set the mood? All of these things combined-- ideally with a shark or a vampire or something so that it isn't boring?
Sure, we can appreciate our "good" homework movies-- the ones that win the Oscars or the Palm d'Or… But isn't there a magic to the "bad" movies as well? After all, who wants to sit with their friends, drink too many beers, and riff on something dreary like Spotlight? No one! That's what Speed 2: Cruise Control is for, you dummy!
Below is a list featuring some of the best of the bad: The purposefully tasteless, the trashy, the overly ambitious, the cynical sequels that make us wonder if maybe movies were a mistake. A very good mistake that you can have a
Mean Girls 2
Book of Shadows: Blair Witch 2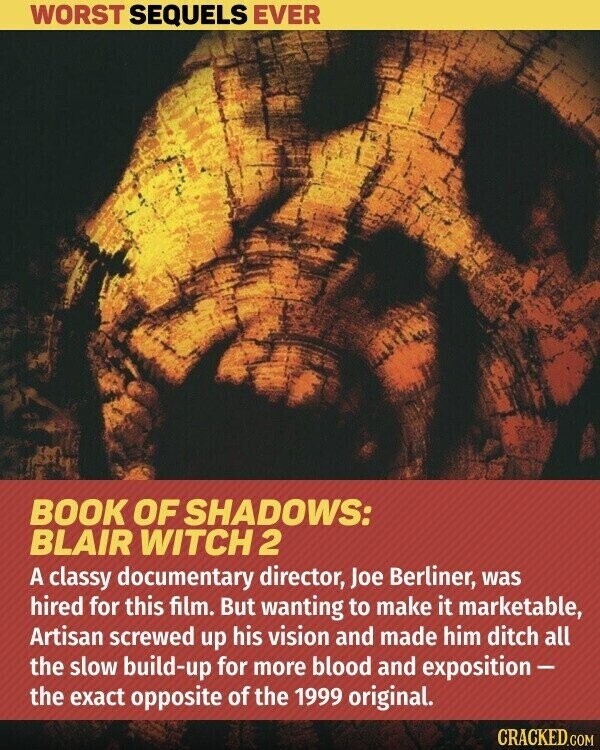 Book of Shadows: Blair Witch 2
Superbabies: Baby Geniuses 2
Jaws: The Revenge
Jaws: The Revenge
Universal Soldier: The Return
American Psycho II: All American Girl
Staying Alive
Xanadu
The Room
The Velocipastor
Son of the Mask
Caddyshack II
Space Jam: A New Legacy
American Psycho II: All American Girl
Willy's Wonderland
Teen Witch
Troll 2
Starship Troopers
Speed 2: Cruise Control
Highlander II: The Quickening
Space Jam: A New Legacy
Son of the Mask
Reign of Fire
Thankskilling
Samurai Cop
Robin Hood: Prince of Thieves
Superman IV: The Quest for Peace
Superman IV: The Quest for Peace
Speed 2: Cruise Control