Close-Up Nature Photos That Are Surprisingly Beautiful
Not everything is what it seems…even when you look at something really, really close up. The world can be a terrible and ugly place, with giant wasps existing and whatnot. But even giant wasps are almost kind of cute when you look at them with extreme magnification, in the right light. The most horrific naturally occurring creatures are somewhat redeemable, given the right perspective. (Or, in a glass-half-empty kind of way, even the most horrifying monsters can trick you into thinking they're not so bad.) Even though it's dangerous and scary, nature also defines beauty.
Except for cockroaches. Cockroaches will never be beautiful.
Here are 12 insects and plants that are deceptively beautiful when magnified. See if you can guess what the photo is depicting without reading the title. This will involve holding up a paper to the screen and scrolling v slowly… you know what? Don't bother. Just read the whole friggin' image.
Giant Wasp
Butterfly
Seahorse
Green Jewel Beetle
Coral
Soldier Fly
Solitary Bee
Jumping Spider
Dandelioin
Sunset Moth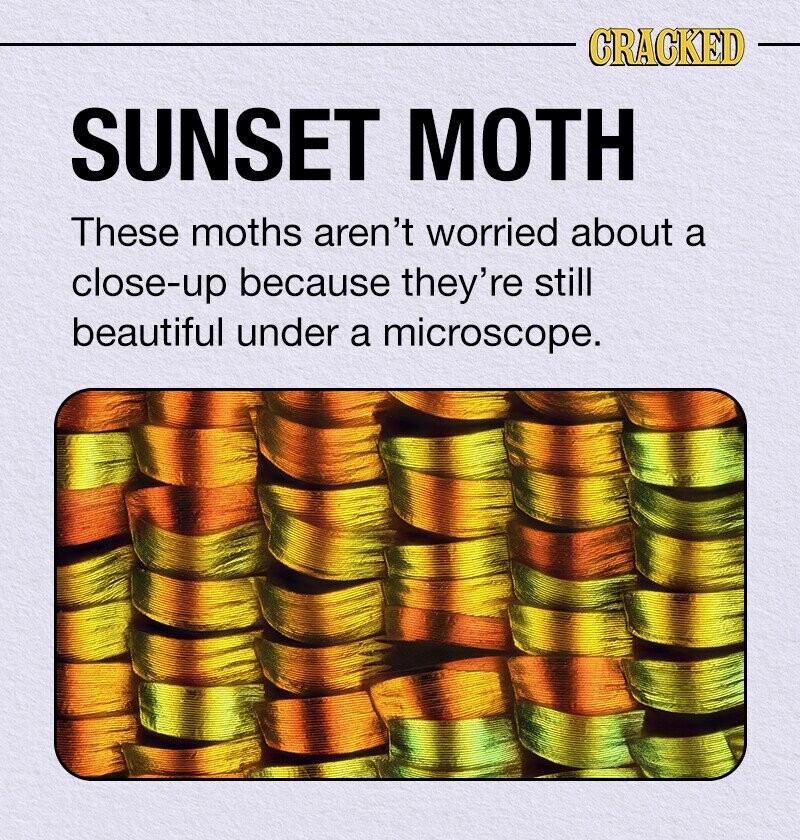 Waterthymes
Dragonfly
Scroll down for the next article