20 Wondrous Facts That Ignited Our Pilot Lights
Did you know that British chancellors are allowed to drink alcohol while giving the annual budget statement? It's true! Alcohol is prohibited in Parliament, with one exception - the so-called "Budget Tipple." Past chancellors have sipped on whisky, gin and tonic, and brandy while delivering their speeches. You might be familiar with VeggieTales, a wholesome show featuring vegetables retelling Bible stories. What you may not know is that the creator chose vegetables in the first place because they were easier to animate than humans or animals with limbs and hair. Also interesting fact - VeggieTales was only going to feature Old Testament stories because the creator's mom didn't want Jesus shown as a vegetable! Have you ever wanted to send a letter underwater? In Japan, there's an actual functioning mailbox located 10 meters below sea level. Postmaster Toshihiko Matsumoto put it there in hopes of attracting people to Kii Peninsula - and it works! The mailbox receives hundreds of letters every day.
The Italian mob needs to adapt sōkaiya immediately.
A Wyoming woman uses a sourdough starter that is older than Wyoming.
An extinct species was cloned and brought back to life, for seven minutes.
The best Ethiopian coffee gets sold out of the country.
Not all Jenga blocks are created equal.
James Franco taught a college course about himself.
"Jaywalking" was invented by car companies in the early 1900s to shift blame for accidents to pedestrians.
Charlie Chaplin's corpse was stolen in 1978.
A sneeze was the first film to be copyrighted in the late 1800s.
A German sailor went back to Somalia to steal back his boat from pirates.
Nacho was a man that gave the world a great gift.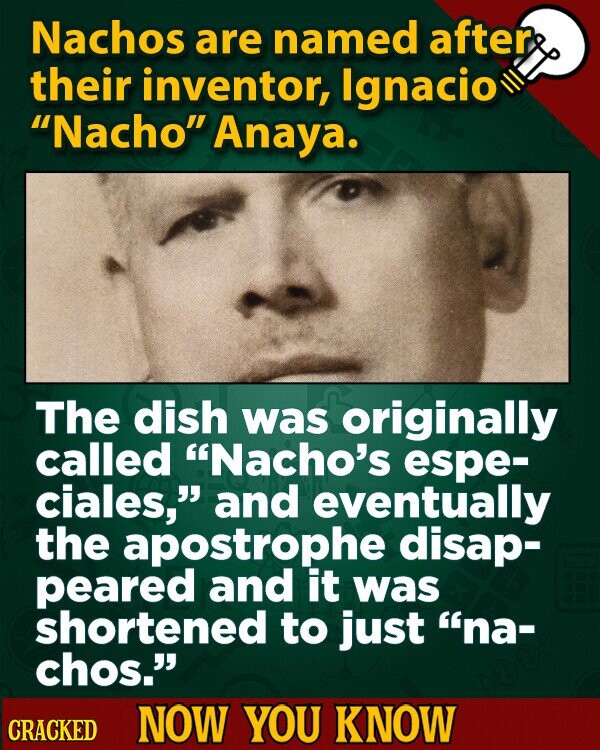 Eleanor Roosevelt had weekly press conferences for just women.
Humans hunted the giant, venomous monitor lizard to extinction.
The people who give out Michelin Stars make sure to be anonymous.
The Secretary of the Communist Party of the Soviet Union wore swimmies in Mao's pool.
A million died from the flu in 1968.
A Scottish piper played his bagpipes during the Normandy invasion.
There is an underwater mailbox in Japan.
VeggieTales will not feature a veggie Jesus.
Chancellors within the British Parliament can drink alcohol while delivering the annual budget statement.