18 of the Best Fictional Sports Franchises in Pop Culture
The National Football League is back in season. Major League Baseball is hitting its stride. The National Basketball Association will hit the court in a month. The National Hockey League might still be going around now, we don't know. The point is that sports fever is in the air for the sports fans out there. Yet during this season, a bunch of random nerdos might feel left behind.
What if you're not so much a sports fan but a fan of sports franchises within your favorite cartoons, television shows, and movies? Sure, Giannis Antetokounmpo is an impressive NBA player, but he's got nothing on Bugs Bunny's hoop game. Could Auston Matthews get a 60-goal season if he skated against the Hanson Brothers in a game of hockey? Could the New York Mets beat Futurama's New New York Mets?
Who are among the best fictional sport franchises in popular culture? Let's break it all down.
The Tune Squad
Average Joe's Dodgeball Team
South Central Louisiana State University Mud Dogs
Springfield Isotopes
Miami Sharks
Team Shaolin
Dillon High Panthers
The Niners
London Silly Nannies
AFC Richmond
The Hickory High Huskers
Arlen High School Longhorns
Gotham Rogues
New New York Mets
The Mighty Ducks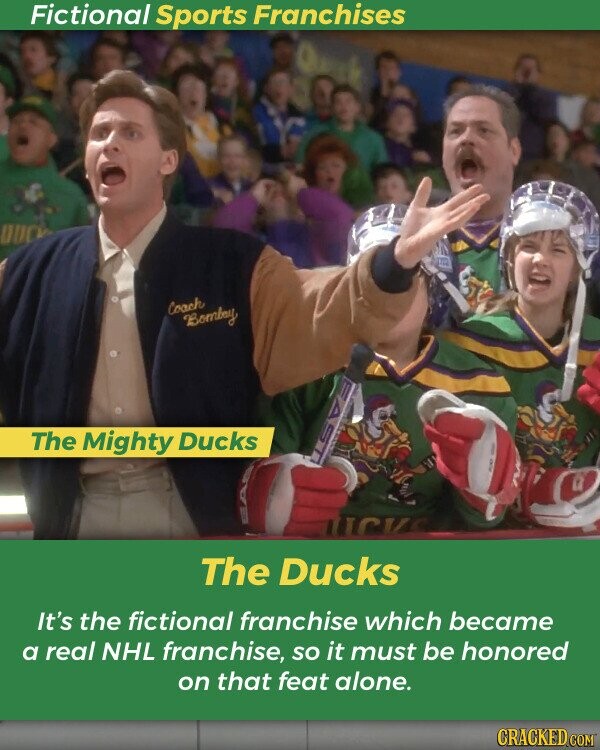 West Canaan Coyotes
Charlestown Chiefs
The Bad News Bears
Scroll down for the next article