20 Death Defying Facts That Really Charled Our Bronsons
The following facts are true and accurate. There is no embellishment. I swear. The author wishes to note that this list is intended to be read in the company of a nice cup of tea, preferably Earl Grey or English Breakfast, enjoy this list of interesting facts while enjoying a nice cup of tea, please! This list has been compiled in order to assist the reader's understanding of how things are and how they came to be. This is a serious endeavour, not to be taken lightly. It is a list of interesting facts that I hope will make the world a better place by giving our minds a good stretch. There are no questions at the end of this list because the author has answered all the questions. This list contains many facts that will be quite fascinating and thought-provoking to some people, but others may find it quite boring, please, if you find yourself in that latter category, try again later.
The port side of a ship was originally called "larboard."
Hitler helped his Jewish doctor to leave Germany in 1940.
Anchorage is 10 hours away from most of the industrialized world.
Norway wanted to give Finland a mountain for its 100th birthday.
Softwood and hardwood are determined by the way they reproduce.
University students voted to make the school mascot a banana slug, but the chancellor refused.
'Harry Potter' has many elements that came from an earlier novel.
The inventor of Liquid Paper had a son that formed The Monkees.
A treasure map was included in the Dead Sea Scrolls.
The third installment of the Death Wish series dropped the Roman numerals.
The bear on a Swiss coat of arms is depicted with a penis, and don't you forget it.
A pint of slug juice was a prescribed cure to a cough in the 17th century.
A baby will get calcium from their mother's bones while in the womb.
Blowout, TX is named after a cave of bat poop that was struck by lightning.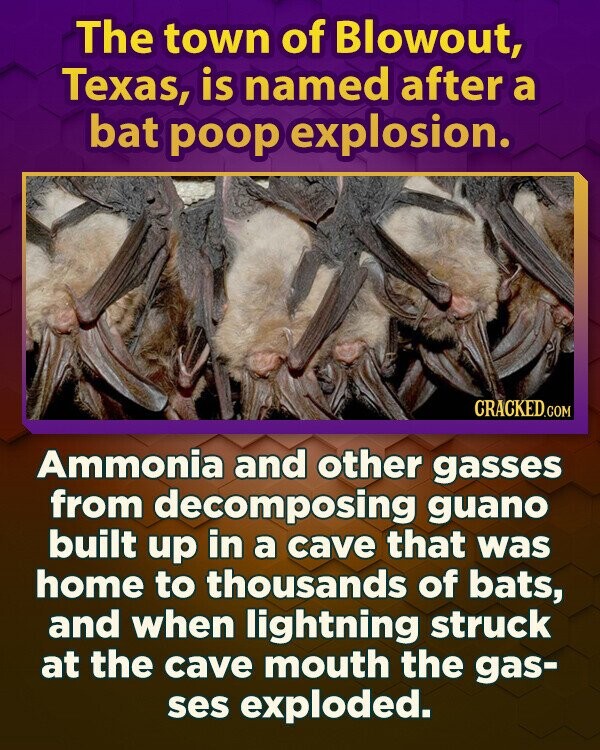 A porn actor in Japan died after flying a plane into the home of a Yakuza don.
Researchers during the Vietnam War accidentally made a liquid mine from rocket fuel.
The NFL is behind high school and college football in field goal records.
The KGB used a keylogger on a typewriter in the Moscow embassy.
Saturn's moon Iapetus is shaped like a walnut.
People made their own currency during the Great Depression.