17 Trivia Tidbits To Wind The Clock
For many years, the author has kept lists of odd facts, amusing oddities and bizarre events for the purpose of entertaining friends, family and himself. While some of the entries in these lists have become common knowledge or enjoy this list of interesting facts, most of the entries are very strange, even to the author. It is the opinion of this author that the brain should be entertained often and on a regular basis. The more it is entertained, the better it works and the better decisions it makes. So enjoy this list of interesting facts, some you may know and some you may not, but all are worth your time and effort to learn about. This list has been compiled from many sources, including personal anecdotes, news clippings, old books, magazines and newspapers, some of which have since been lost to time. If you enjoy this list of interesting facts, please send the list to your friends, family, acquaintances and enemies. You may never know how much they will appreciate it!
A father who lost his son in a road accident is filling in potholes himself.
Terry Bradshaw owes his career to one of the Duck Dynasty stars.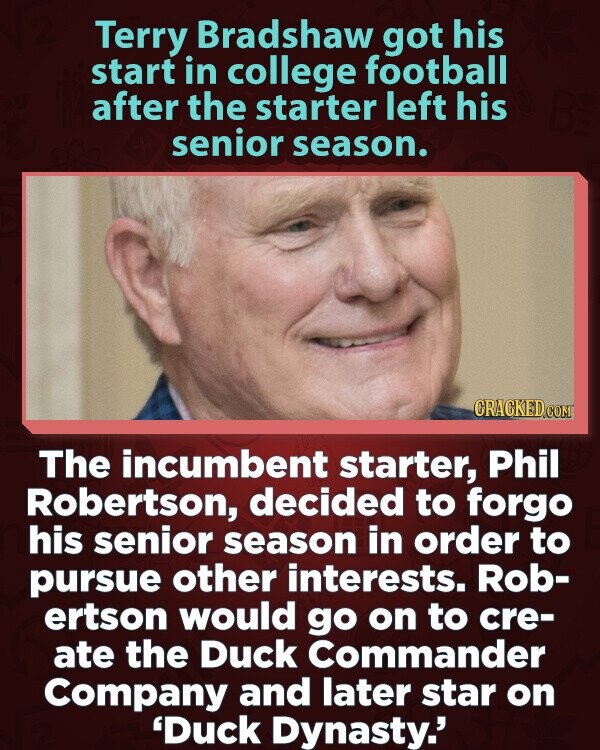 The world's most well-preserved mummy is from the Han Dynasty.
Andrew Jackson took a saber to the face as a 13-year-old POW.
People can call a baking hotline for free.
The El-Dorado Topaz is 31,000 carats.
A Torah will be unfit to use with a single error.
Apple holds the "swipe-to-unlock" patent.
The NJ Forest Fire Service can summon anyone to help.
A passenger plane dropped to 4,000 feet to help search for a stranded boat.
The smallest bear in the world is the Sun Bear.
Carl Weathers is a retired NFL linebacker.
There is a type of torture in a completely white, soundproof room.
The scientist who discovered the double helix structure of DNA was high on LSD at the time.
The Red Scare in the '50s touched professional baseball.
The military uses floppy disks to run nuclear missile systems.
A cameraman missed capturing the Hiroshima bombing by keeping the shutter closed.
Take a seat, right over there, Chris.