20 Facts Uncovered For Every Fact Explorer
This is a list of some interesting things. The order of the items in this list has no particular significance. I wrote this list of interesting facts while on a very long train journey. I wrote the first few items on the list while in my hotel room. The train journey was from New York to Washington DC. It took approximately sixteen hours. It is worth mentioning that I enjoy this list of interesting facts. It is a very enjoyable activity to read and to make up new items for this list. There are many different ways to create new items for the list. One way to make up new items is to make up a question based on an item from the list, then think of the answer. I have been making up a new question for the list every day. Sometimes the question is about a single item on the list. Other times the question is about several items on the list at once.
Bon appetit, mayo can stay on your kitchen counter.
D.B. Cooper is the only unsolved air piracy case.
The Osmonds formed a band to afford hearing devices for two of their brothers.
Whoopi Goldberg witnessed an air travel disaster.
The fact that the Wis in orbit leads to its weightlessness.
Tiger beetles run faster than they can see.
The first microscope forensic investigation was in 1846.
The Finnish military was still using swastikas until 2020.
The Catholic Church had to stop cataloging all the books they hated by the 1960s.
A serial killer was caught in a very Looney Tunes fashion.
Some CA schools have days where the air is so bad kids have to stay inside.
The first Olympic discus throwers were largely just winging it.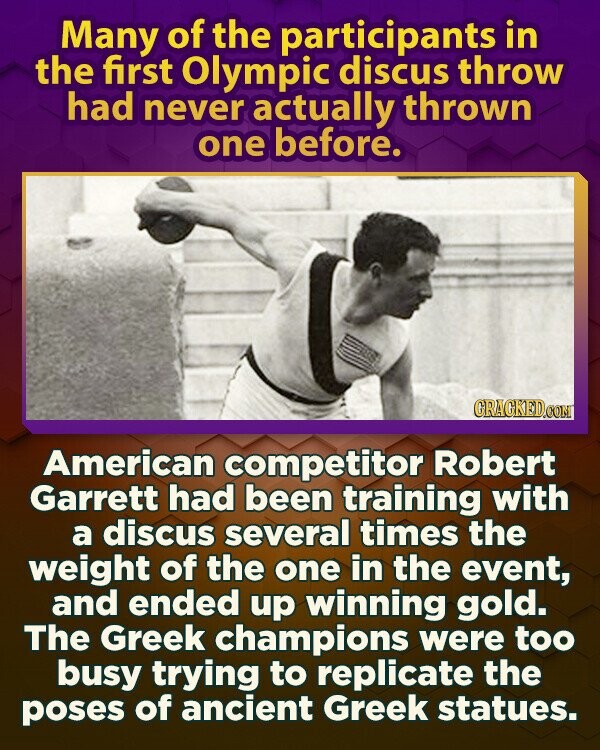 Beer is an (officially) important part of Belgium's culture.
The RP Flip research seacraft can sit completely vertical in the water.
Egypts last king was a baby when he ruled.
A "racist" visual gag in Invader Zim had to be changed.
A 14 year poker game happened in a WV hotel.
Jordache Jeans are responsible for a tragedy bigger than their designer pants.
Some women in Tibet still marry multiple men from the same family.
10 million people attended the first World's Fair held in the US.