21 Pop Culture Characters Who Could Lift Thor's Hammer
No one can wield Mjolnir unless they are worthy. In the Marvel Cinematic Universe, Thor, Captain America, Vision, and Jane Foster are the only ones capable of lifting Thor's hammer. Bonus points to fan-favorite Groot for lifting Stormbreaker, but it (arguably) doesn't have the same worthiness enchantment that was placed upon Mjolnir.
Do you think you could wield Mjolnir? If yes, you're probably too arrogant. If not, we hope you have a nice satisfaction of being correct. We would argue that there's no actual historical figure that would be worthy, even the ones we've created into myths so we asked Cracked readers on Facebook, "Outside of the Marvel Cinematic Universe, which fictional character do you think could lift Thor's hammer? Why?" We were pleasantly delighted by the variety of answers to the questions, almost all of which we agreed with. Or at least the very least were entertained by the justification.
Samwise Gamgee
Bob Newby
Mr. Rogers
Seymour
Ned Stark
Sue Heck
Granny Weathwax
Shaggy Rogers
Bobby Singer
Neville Longbottom
Pennywise....yes, you read that right
Paddington
Rock Lee and Guy Sensei
King Arthur
Luna Lovegood
Uncle Iroh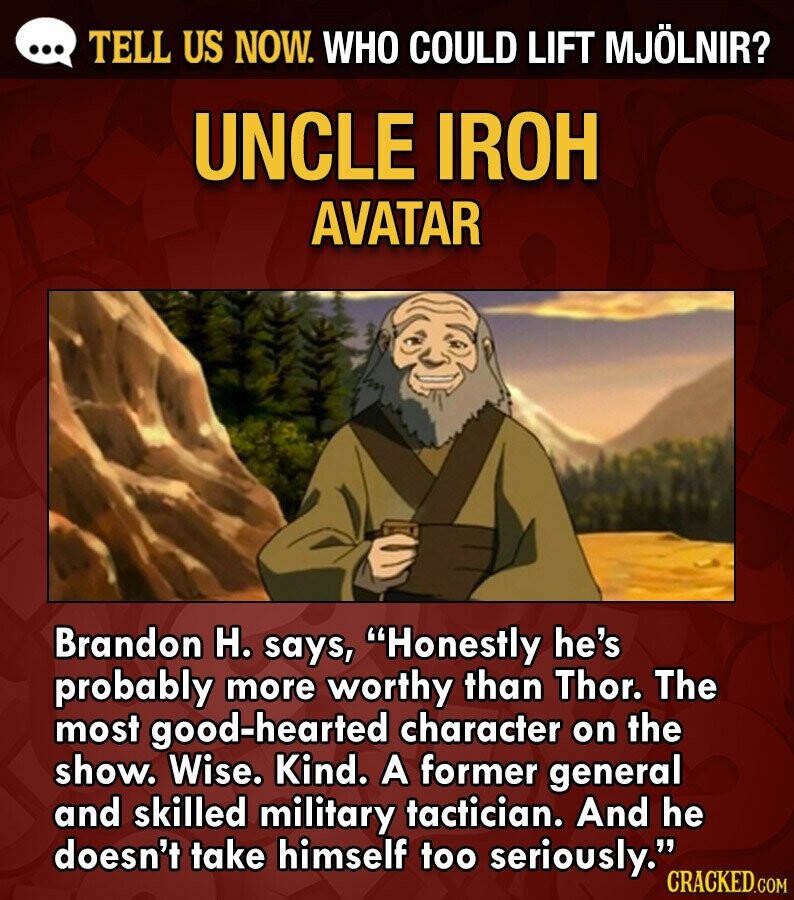 Guy
Forrest Gump
Malcom Reynolds
Rory Williams
Steve
Scroll down for the next article