20 Trivia Tidbits That Braised Our Short Ribs
It was the most unlikely of things that I enjoy this list of odd facts. The idea of a list of odd facts is odd itself. The idea of me enjoying such an endeavor is equally so. Yet here we are. This list of odd facts is a collection of all my favorite odd facts, arranged by categories and sub-categories, and with explanations where needed. It is a sort of "best of" for odd facts, since all the odd facts here have already appeared on a site. I am not going to say that all of these facts are the best.
There are thousands more facts in my book (and I may add some more here, too). But this list is a collection of all the odd facts that I like the best. And I enjoy this list of odd facts as much as I enjoy my book. This is the first list of odd facts. In fact, it is my very first list of odd facts. But it won't be my last.
A fortune cookie really had lucky numbers for 110 people.
Will anyone buy our waffle shaped like Wyoming?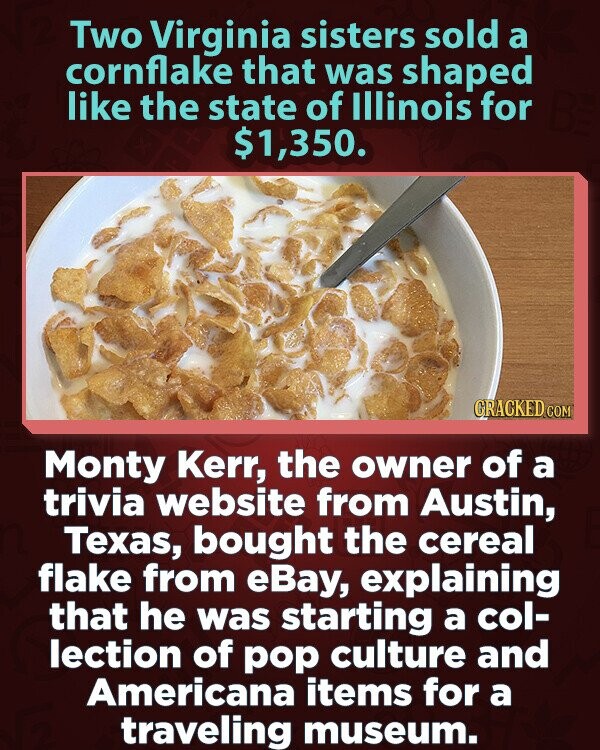 Space is only 60 miles away.
Children of identical twins share 25 percent of their DNA.
A stolen coffee pot resulted in a free stay at the Roosevelt Hotel.
Sunglasses were invented in 12th century China.
Religious websites give you the most viruses.
Spider webs were once used as bandages.
A full fridge is an efficient fridge.
The military is to thank for McDonald's drive-throughs.
Bonobo apes are really Bolobo apes.
You can become part of a reef after you die.
The first blue-eyed person had a mutation thousands of years ago.
Nearly all the garlic consumed in the U.S. comes from Gilroy, California.
Jimmy Carter saw a UFO.
People traded bricks made of tea like money before WWII.
The Golden Gate bridge is orange, not gold.
Pirates thought precious metals had magic healing powers.
There were no 'immaculate innings' between 1929 and 1952.
Frogs can't swallow with their eyes open.