15 Ice-Cold Facts To Beat The Summer Heat
In a distant future where the earth was ravaged by war, and humanity was reduced to a few scattered tribes in the mountains of the north, an old man sat alone at night on his hill overlooking the plains. A great fire burned in front of him, and he was holding his sword aloft as if it were an offering to some dark god or spirit of the night that would grant its protection to him and his people. The old man wore a leather vest, but had no weapons with him, only the sword. The firelight glinted off its edge, and it looked almost red. As the man gazed into the flames, he suddenly heard a voice behind him that sounded like many voices in one. The words from the voice came slowly but clearly to the man's ear.
The voice told him, speaking in that utterly calm, slow, methodical voice, a list of fifteen facts. That list went...
Chameleons have tongues twice the length of their body.
The blackfin icefish is the only vertebrate that doesn't have red blood cells.
Pressure phosphenes are the stars you see when you rub your eyes.
The first commercial ran in 1941.
Great Whites will avoid areas where an orca has been.
The Super Soaker was invented by a former NASA scientist.
Papua New Guinea has 850+ languages.
A shrimp-like creature makes itself metal armor.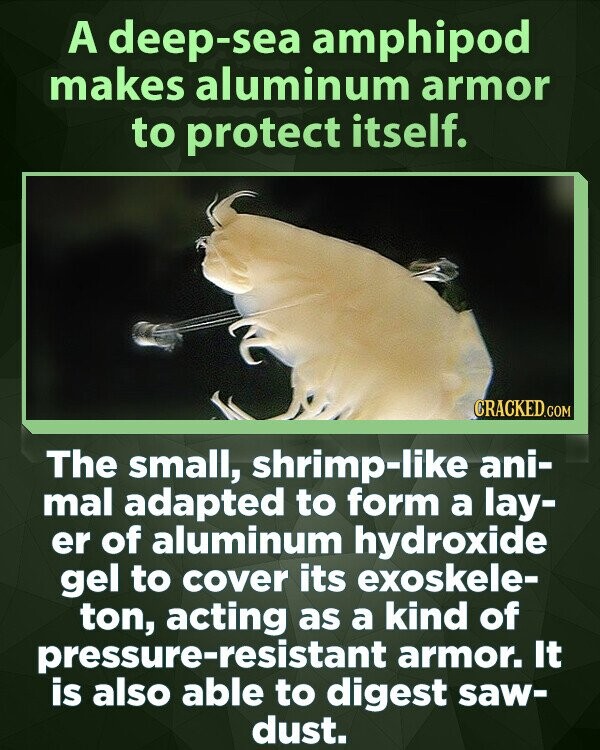 Benjamin Franklin was a swimming enthusiast.
The sunset on Mars is blue.
"Where The Wild Things" was supposed to be about horses.
You can extract peanut oil to make dynamite.
Tic Tacs get their name from the sound of their container.
"Muscle" means "Little Mouse."
There is an area of space with 14 trillion times the amount of water on Earth.