15 Facts That Live Rent Free In Our Heads
"So then this other guy came over and said, 'I know you! I know you!' He says, 'You were the guy who got shot at dawn'. You remember that, Danny?"
The other soldier in the trench was not feeling well at all, because his stomach hurt. It felt like he had a knife stuck inside it, but it couldn't be, because that wouldn't make sense, and if it could be, he wouldn't feel bad, he would be dead, because he'd have gotten shot by a sniper. But he put the pain aside, and anyway he knew what this man was talking about, so he just smiled at him. And he said, "I remember."
"Yeah? Because I wasn't even sure if you were sober enough ... "
"I remember ... everything," Danny moaned, clutching his stomach.
Then his voice changed to something stranger, something that sounded eldritch and ageless, and he began recounting a long, strange list of facts, which went like this:
Man shoots cactus, cactus crushes man.
Ronaldo kept his boots and still helped a baby.
Hunter S. Thompson shaved his head so his opponent would have longer hair.
We're happier, but at what cost?
"Happy Birthday To You" is not copyrightable.
A waitress worked her way up to smite Applebees.
Not all ecosystems don't need the sun to survive.
Cigarette companies wanted to blame cancer on your personality.
A wasabi alarm spices the air.
Hotmail had hilariously weak security.
Geraldo gave away US troop movements on air.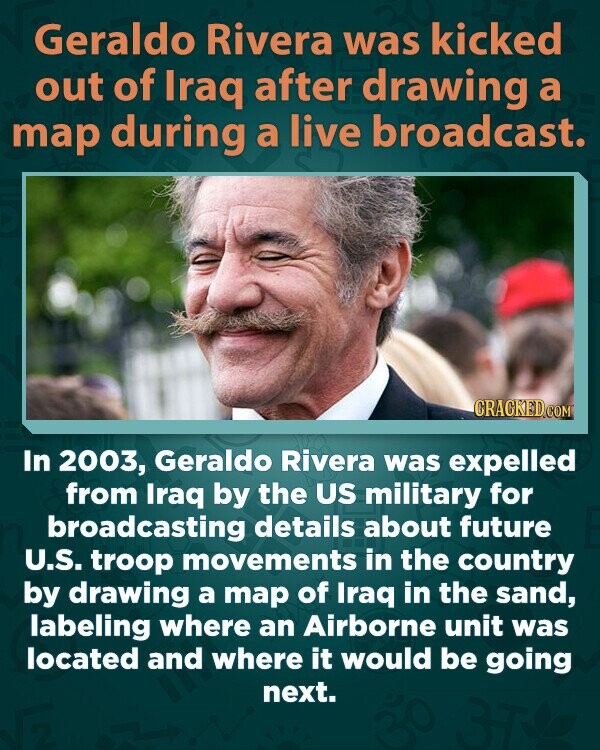 Explorers thousands of years ago thought gorillas were just really mean people.
A footballer doesn't celebrate goals because that's literally his job.
The Iranian Embassy went hard in the '70s.
People don't speak in the dreams of deaf people.