15 Facts That Will Be On The Test This Friday
"I can't believe you've never had a dream. Never in your life?"
"I haven't had a single dream."
The words rang true inside of her, as if she'd heard them in a dream herself. This wasn't the first time that this question had been asked of her—but it was the first time that she realized its significance. Her father had always been there when it came time to tell bedtime stories she and her sister enjoyed, telling one of his many wild tales, but no one in the world besides her knew that his stories weren't made up. He couldn't tell stories he didn't know himself.
And now, she wanted something totally different -- something, maybe, that could make her finally dream for the first time.
"Please, father ... tell us something new. Something you've never told us before. Something amazing."
Her father nodded sharply, inhaled, and then began quietly speaking, with a tremble in his voice:
Steroids caused one woman to grow nails instead of hair.
A hot air balloon duel happened above Paris.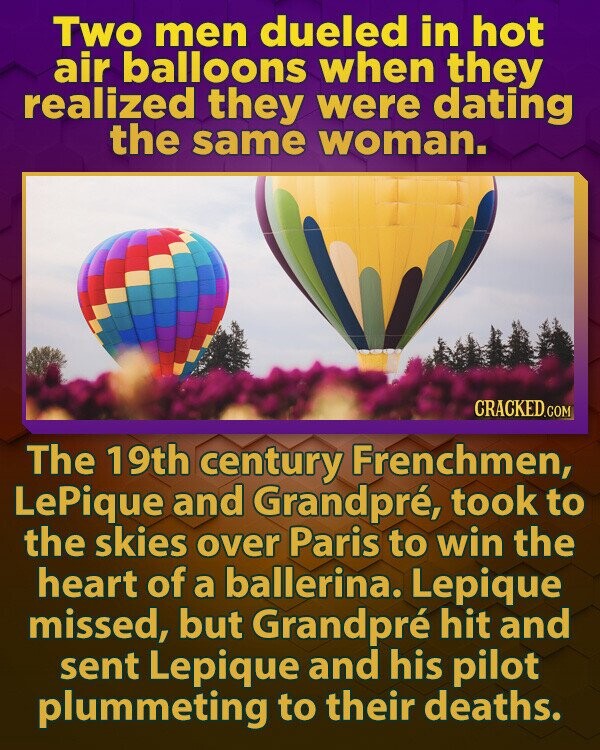 The biggest jellyfish in the world is 8.5 storeys tall.
Horny tortoises made the raptors in "Jurassic Park" especially terrifying.
Smell and taste is worse on an airplane.
King Tut's meteorite dagger is a mystery.
Tiger skin is striped like their fur.
President John Quincy Adams wanted to trade with a race that lived underground.
Mosquitoes chew through your skin.
The journey a photon takes from the sun's core is thousands of years.
Ant heads were used as surgical staples.
Invasive pythons are the top predator in Florida.
A European mummy had tattoos to help his joint pain.
Orange is orange because oranges are orange.
The tallest mountain is partially submerged.