Tell Us Now: 15 Outrageous Things Rich People Have Said To Us
Although wealth is hard to measure, some economists estimate the top 0.1% of people own the same wealth as 90% of Americans. The inequality between classes is only growing. Billionaires can't give away money fast enough to not become richer (see MacKenzie Scott's philanthropic attempts). But many Americans work full-time and still live below the poverty line, and 64% of Americans live paycheck to paycheck. It is no wonder that the super-wealthy are out of touch with everyday people. And since we can't eat the rich, we might as well make fun of 'em.
We asked Cracked readers on Facebook, "What's something a rich person has said to you that makes you think you live in different worlds?" We were amazed at the ridiculous things people from different tax brackets dare to say or do, lacking the self-awareness of their own wealthy perspective. So, for now, let's laugh instead of crying at the disparity.
Very, very expensive taste
Why rich kids never learn to share
Why not just get a part-time job?
People can afford that?!
Not understanding the concept of lines
Why can't you just leave in the middle of the day?
Why doesn't everyone go heli-skiing?
Some people are born with a golden spoon in their mouth
Affording not one but two nannies
Golf: the famously accessible sport
Go-cart yourself
Rich enough to afford it but too cheap to buy
The dorm's servant quarters
Pricey drug paraphernalia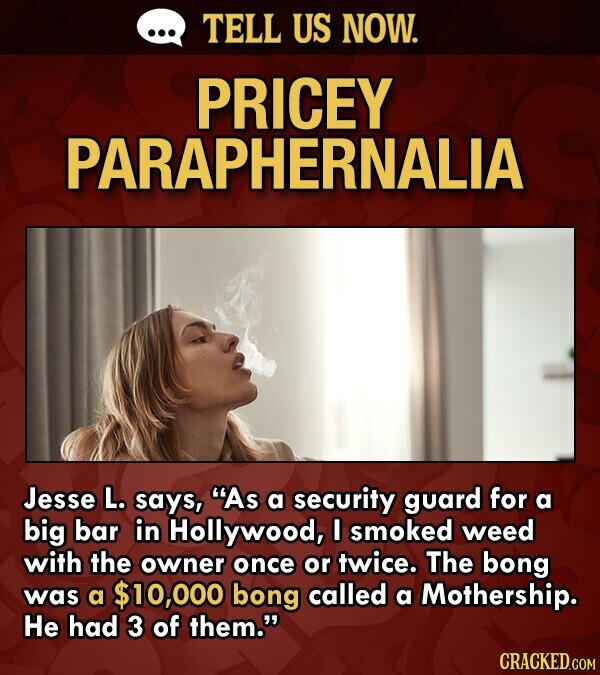 Spending money out of spite
Scroll down for the next article