Tell Us Now: 16 Discontinued Candies We Miss
As any self-respecting sweet tooth knows, there are few things more disappointing than a discontinued candy. While we may not be able to enjoy these sugary delights anymore, we can still look back on them fondly and dream of what might have been. Here are just a few of the most missed discontinued candies.
First on the list is the 3 Musketeers Bar. This chocolate-covered fluffy marshmallow treat was first introduced in 1932 and was an instant hit. However, in recent years it has become increasingly difficult to find, leading many to believe that it has been quietly discontinued. Another dearly missed candy is the Wonka Bar. First seen in 1971, this chocolate bar was made famous by Roald Dahl's book Charlie and the Chocolate Factory. Sadly, production of the Wonka Bar ceased in 2010, much to the dismay of Dahl fans everywhere. Finally, there is the Nestle Magic Ball. This spherical candy was filled with a mystery flavor powder that changed color when it dissolved in your mouth. The Magic Ball was sadly discontinued in 2006, but those who remember it still crave its unique flavor combination.
We asked Cracked readers on Facebook, "What's a discontinued candy you miss?" Creme Savers were by far the most popular answer, which made us wonder why Lifesavers won't bring back the candy. Cracked readers demand it! In case you work for a candy brand, here are the candies that we simply must see a return to the shelves…
Seven Up
Reese's Bites
Peach Jolly Ranchers
Peanut Butter Twix
PB Max
P.B. Crisps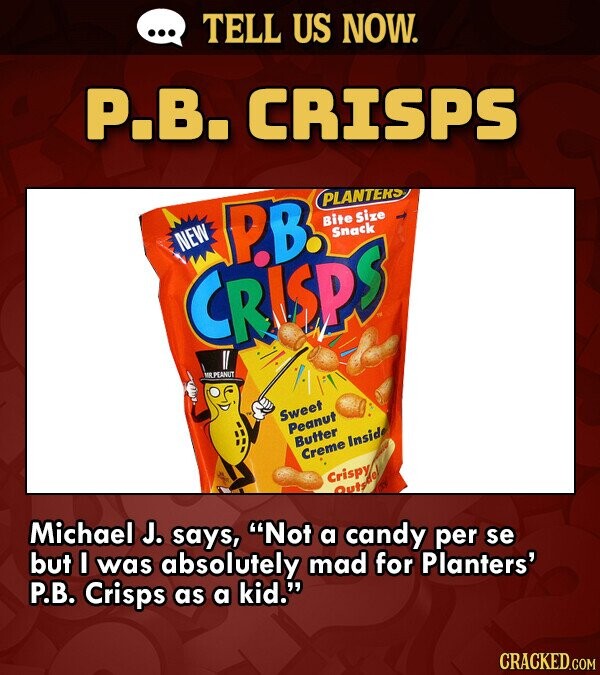 Peanut Butter Oompas
Marathon Bars
Hershey's Kissables
Elvis Reese's
Butterfinger Crisp
Creme Savers
Hershey's Chocolate 'N Mint
Butterfinger Buzz
Bonkers
Altoids Sours