17 Movie Lines and Moments That Thoroughly Failed the Test of Time
Have you looked at a picture of yourself in the fifth grade recently? Well, don't. My own snapshot, taken by a local balding photographer who could have easily been confused for a church youth pastor if he didn't have four cameras hanging around his neck, reveals a deeply ridiculous young man. (Easter egg, my glasses had little skateboards on the bows!)
In short, it hasn't aged well at all.
This also happens in Hollywood, and that's why we're here today: to relentlessly mock when Tinseltown thought they had it nailed in the moment, only for the march of time to trample their efforts fully and completely.
Scooby-Doo: Fred Takes Liberties With Daphne's Body
In the 2002 live-action movie, they swap bodies, and Fred gets overly excited when he realizes he can look at Daphne's naked body whenever he wants. He then feels up his new body parts, and Daphne (in Fred's body) yells, "Get your hands off me!"
National Lampoon's Vacation: Clark Griswold Drags A Dog To Death
The scene is fully played for laughs in this 80's John Hughes classic. Clark can barely contain his joy as the highway patrolman informs him.
We expect this kind of behavior out of Chevy Chase and Mitt Romney, but Clark Griswold? For shame.
Apex: Bruce Willis Escapes An Exploding House Via A PowerPoint Presentation
The conclusion of John Apex fighting the Apex Corporation is, you guessed it, apex trash.
Bad Boys For Life: The Whole Rogue Cop Thing Hit Quite Different In 2020
Bad Boys For Life was the highest-grossing movie of 2020, which honestly says it all. But its milieu of cops not playing by the rules sure didn't square with the murder of George Floyd and the nationwide protests that followed.
It also shares its name with a track best known as the theme song for Cops, the propaganda show that was canceled in 2020 but later returned because … everything's going great.
13 Going On 30: It's Way More 30 Than 13
A good chunk of this 2004 movie is about whether a woman, who is essentially a child, will have sex with a number of grown men.
Jeffery Epstein didn't hang himself until August 10, 2019.
Blank Check: An Adult Woman Kisses An 11 Year-Old, Romantically
Fifth-grader Preston Waters and Shay Stanley (an adult FBI agent) agree to go on a date in six years when he's 17 then she kisses him on the mouth, surrounded by a bunch of FBI agents and his Dad.
Had he lived, J. Edgar Hoover would have been horrified … to see a female FBI agent.
The Mummy Returns: The Rock Emerges From A PlayStation
The Rock wasn't available for this scene, apparently, and the production knew the only way to ensure the film's integrity was to portray him with 16–bit graphics.
Lost Highway: Robert Blake Is Really, Really On The Nose
In this 1997 David Lynch weirdout, Robert Blake wears all the pancake makeup available in the Los Angeles area to play a character that torments Bill Pullman, who killed his wife.
Of course eight years later Blake stood trial for that very crime. He was eventually acquitted but found liable for her wrongful death.
Gremlins: Forget What You Know, Kids, This Is The Spirit Of Christmas
Everybody remembers the violent, gory deaths caused by those little shitheads, but what about Kate's grim tale of her father, who broke his neck climbing down the chimney as Santa Claus?
Oh yeah, and they didn't find him until smelling his decomposing body days later.
Dodgeball: Lance Armstrong Is The Inspirational Figure - That Is All
Jack: A 10 Year-Old Rounds First Base With An Adult Woman
Fran Drescher's character actively pursues Jack, who looks 40, but is actually a 10 year-old boy. In one scene, they grind up on each other, he grabs her butt, and she makes out with him.
It's a Big ripoff in all the wrong ways.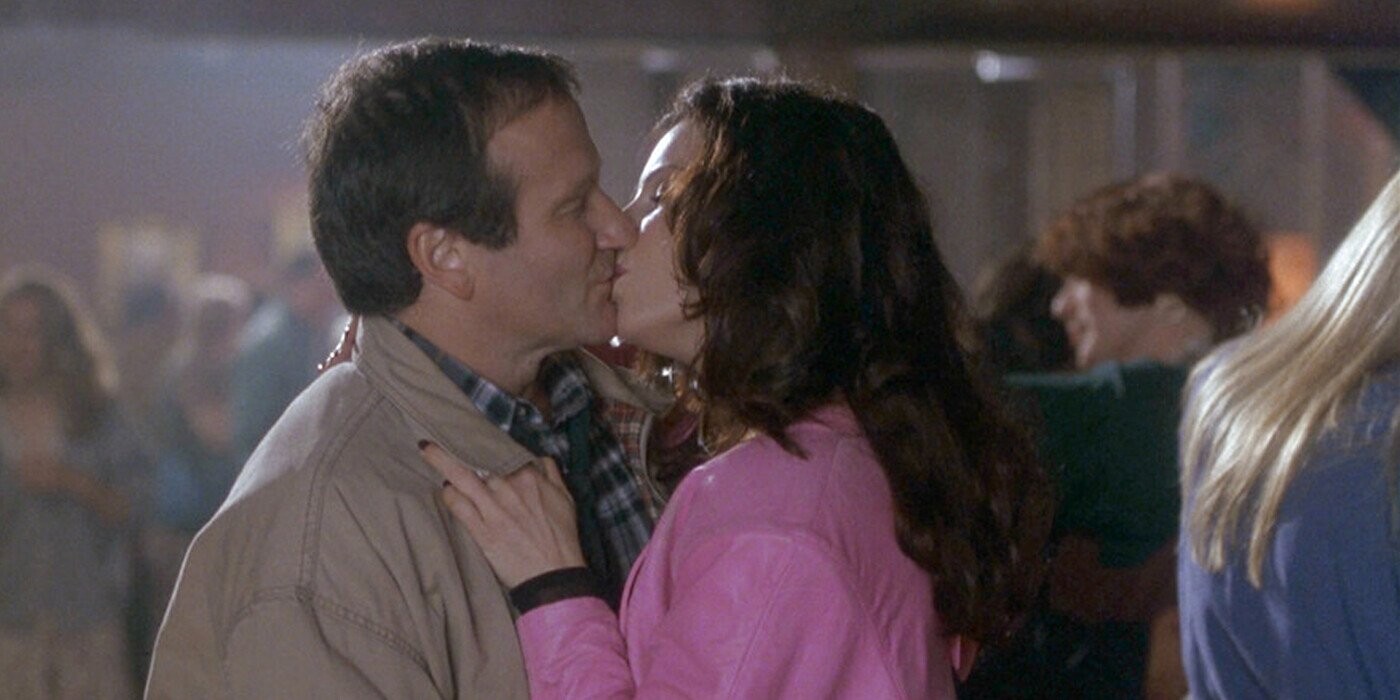 The Princess Bride: Wesley And Buttercup Aren't So Sweet Together
In this 1987 beloved classic, Wesley almost smacks her across the face and tells her the next time he won't stop himself from knocking her senseless.
Chris Brown was not born until 1989.
Ben Hur: Lots Of Dead Horses
The 1925 epic won 11 Oscars but as many as 100 horses were killed on set. The 2nd unit director had many with injuries shot before even attempting veterinary care.
In 2011, The Hobbit killed a measly three horses.
Mr. Mom: A Dad Changes A Diaper, HAHAHAHAHAHAHAHA!
Laid-off Michael Keaton becomes a stay-at-home dad and his wife gets a job, but don't worry: in the end he goes back to work and his wife returns home to care for the children.
The Goonies: Chunk's Hand Just Might Be A Protein Shake
In this 1985 favorite, The Fratellis want to force a confession out of Chunk, so they try to stick the terrified little chub's hand in a blender.
Not even Suge Knight would blend your hand until you were 16.
American History X: Holy Shit, No
It was unnecessary then and it's unnecessary now. You know what I'm talking about.
Soul Man: Six Of Nine Supreme Court Justice's Favorite Movie
In this very 1986 movie, a spoiled white kid pretends to be black to nab a Harvard scholarship exclusive to black students. It does try to raise awareness of prejudice and racism, albeit in the dumbest way possible.
Scroll down for the next article