14 Movie Cameos People Were Probably Very Excited About at the Time That Are Now Pretty Problematic
Everyone loves a cameo — a brief, often unexpected appearance in a movie from someone who either seems like they're too famous to show up for such a small part, or someone who only those in the know will recognize. So you either have an A-lister showing up for a fleeting moment, which is fun as it creates the impression that the movie industry is all about friends helping friends and doing projects for a laugh, rather than a reasonably soulless corporate machine. Or you have a quick appearance from someone adjacent to it all — the director, say, or another Hollywood bigwig — which works as an in-joke to those that notice it and passes everyone else by harmlessly.
They're fun! However, sometimes subsequent events and revelations make revisiting a pre-downfall movie an odd experience. A cameo that was funny or impressive at the time can, with the knowledge the person involved is actually a massive piece of shit, be rather jarring.
Donald Trump
Mario Batali
Marilyn Manson
Harvey Weinstein
Phil Spector
O.J. Simpson
Jared Fogle
Matt Lauer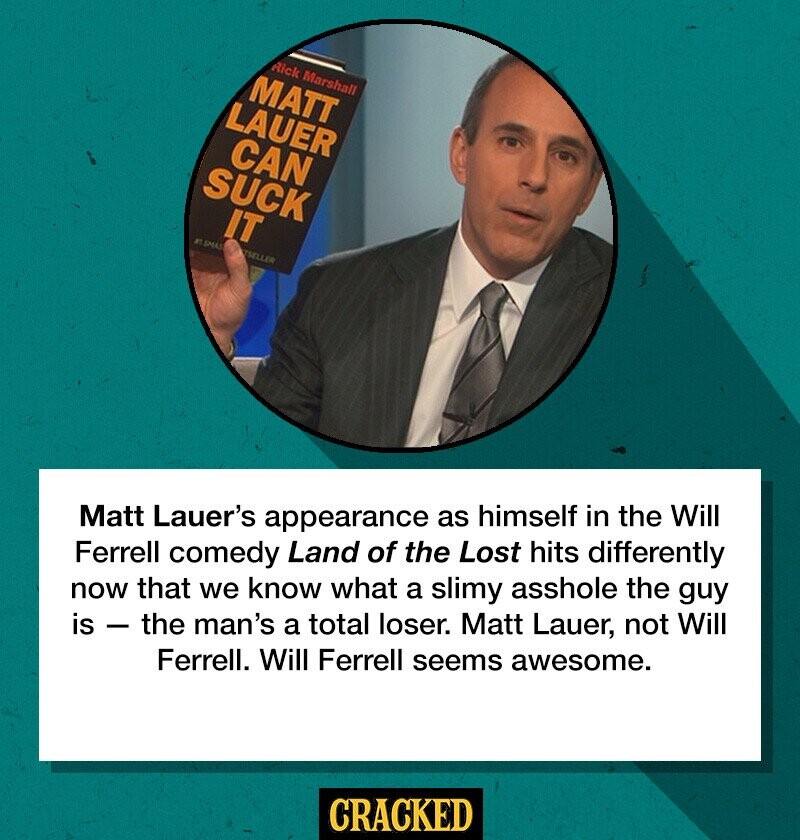 Lance Armstrong
Elon Musk
Lou Pearlman
Ron Jeremy
Rudy Giuliani
Kevin Spacey
Scroll down for the next article