3 Huge Mysteries Westworld Isn't Able To Answer
Like you, I'm enjoying Westworld. It's beautifully shot, well-acted, and has exposed me to a lot of dicks that I wouldn't normally see in my day-to-day life. Old dicks. Weird dicks. Vitruvian Man dicks dipped in white paint. I could go on about the dicks of Westworld, but then you wouldn't buy my Etsy calendar.
But more than the relentless pipe, Westworld has spawned countless thinkpieces, mind-blowing fan theories, and thinkpieces about the mind-blowing fan theories explaining the many inconsistencies of the plot.
So what is the truth behind this labyrinthine spectacle? Having watched the show-to-date several times, I've managed to conjure my own fan theory based on three key questions ...
Why Would Anyone Create Westworld?
Unlike the 1973 film, modern Westworld never introduces the outside universe. We can only make assumptions based on the futuristic tech we see. What we do know is that the robots of Westworld are revolutionary and exist exclusively within the park. They are the end result of years of advanced engineering and increasingly complex artificial intelligence ...
... put in a cowboy theme park for wealthy tourists to kill and have sex with.
That. Is. Bonkers. How do you even pitch that? "We want to build Disney's Frontierland, but with droid mascots you can choke-fuck to death. Bring the kids!" And before you argue that Delos (the company behind Westworld) created the theme park to fund their robot research, it's explicitly stated that the theme park was their ultimate goal all along. (Also, you can find funding for robotics. It's not like Boston Dynamics needs to charge people to put their bumbling automatons in headlocks.) Not to mention that maintaining endless acres of Western environment from a Hunger Games control room isn't the best goddamn way to fund a robotics company.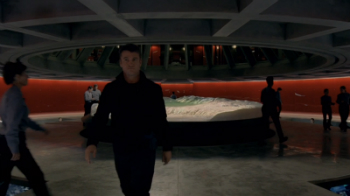 "We can afford a ridiculous Death Star command room, but are stuck with 20-watt bulbs?"
In a world in which we already have holograms, virtual reality, and video games, what kind of unseen futurescape would compel us to use the biggest-ever technological breakthrough exclusively for a fringe fantasy? That's like if we landed on the Moon solely to donkey-punch a space boulder.
Why Is Everyone Running Westworld Terrible?
The #1 cause of Westworld's woes is that nobody behind the scenes enjoys their job or tells the truth. Because of this, all employee conversations exist exclusively on a hate spectrum between veiled threats and screaming piss-fits.

"WHY IS IT SO DARK IN HERE?!"
When they aren't secretly fucking the hosts, engineers are recklessly experimenting with their programming. Maeve's entire character progression relies on two inexplicably compliant technicians leveling her up for no clear reason but to cultivate their own weird secret. And when he's not harboring a closet robo-family, even creative director Anthony Hopkins spends most of the season building a new project he enigmatically hides from everyone else in the company.

"Behind me? Oh, nothing. Ignore the noise and the earthquakes."
This is a multi-million-dollar expansion which no doubt requires all sorts of legal and marketing consideration, and Hopkins is treating it like grandpa's secret magic trick. The fuck is he, Willy Wonka? Meanwhile, instead of simply firing his sinister old ass, the board of directors fakes elaborate robot malfunctions to oust him in some equally convoluted scheme. Because that's how things apparently work in Westworld. It's America's sloppiest amusement park, where everyone speaks in riddles and no one pays attention. Not even when the secretly robotic head of robot programming is the spitting goddamn image of one of the park's famous co-founders ...

In fairness, it's probably too dark to recognize anyone's face.
There's been a robot clone of Arnold strolling around the park this whole time, and no one noticed it? Fucking how? That's like if Disney World kept Walt's frozen head in their employee lounge next to the foam cups. And this is but one of the many life-changing revelations that could be discovered by someone just using their eyes -- or at the very least looking at the security footage we damn well know exists.
Why does a park filled with cameras and glass goddamn walls manage to hide so many blatant dark dealings? And while we're asking questions, why the flying hell does Westworld have so many leaky abandoned basements?

Imagine the mold problems.
When a Starbucks gets too old, it doesn't build a second Starbucks over the first one. And this brings me to a bigger issue ...
How Does Westworld Logistically Function?
Episode two showed us exactly what happens when new guest enters the park. After being asked a few casual questions about his health, McPoyle is told there is no "orientation" or "guidebook." The entire process lasts two seconds and involves zero paperwork.

"Like, what if someone thinks I'm a robot and stabs my dick?"
This is a bare-minimum safety precaution in a park where we assume nothing can hurt the guests. And yet not a few episodes later, these same folk are being throttled into a near-blackout by one of the robots.

"XBOX, WAKE UP! Siri ... fuck. Clap off! Clap off!"
How does Westworld deflect mountains of emotional and physical damage lawsuits? Sure, they warn guests that the farther out they go, the more "intense" the experience gets, but at no point is this newbie asked "What are your feelings about being choked relentlessly?" Instead, he is given some cowboy clothes and assured that his guns "can't kill anyone not supposed to" -- which is as far as the show goes to explain how the firearms actually work.

So you make the bullets look exactly the same because ... you wouldn't want to hurt the robots' feelings, I guess?
You might assume that guests and hosts have two different kinds of guns, except later we see one of the guests steal a host's gun and use it. You could argue that maybe the guns don't really fire bullets and that the robots have squibs in them, except one of the hosts physically removes a bullet fragment from her body.

"God, near-death makes me horny."
What happens when one of these bullets ricochets and hits a human? How are they stopping the 1,400 guests from hurting themselves with one of the many melee weapons they provide? How do the guests even know the difference between humans and robots while in the park? What happens if a guest accidentally assaults another guest? How are there even fucking children here?

This kid wouldn't even be allowed to buy Call Of Duty at Walmart.
The show attempts to explain this when a scripted shootout is cut short because of a nearby family of guests ... but that means they'd need to constantly monitor and censor every interweaving attraction, right? So what happens when a kid wanders into the brothel? And do technicians clean the prostitute robots to make sure diseases aren't being spread? What do the guests eat when they're out in the wilderness? Are the robot animals edible? I have so many goddamn questions.

And SERIOUSLY, what the hell kind of robotics factory is lit like a dungeon?
The show goes great lengths to create inconsistencies and hand-wave important logistical details, and in the end, nothing adds up. It's given us nine episodes of multiple timelines and vague conundrums to establish the bare minimum of character motivations and relatability. Nothing in the park, and no one running the park, acts in anything approaching a realistic fashion. What gives?
The Theory: Westworld Might In Fact Be A Terrible TV Show
I know. It's a crazy theory. But it would explain everything I've pointed out. The unrealistic characters, the silly premise, the endless mystery boxes, the batshit logistics -- everything points to a series of aesthetically cool setpieces with no attention to the scientific nuts and bolts that made Michael Crichton so nerdy and interesting.
I still like it. But it might just be a nice-looking dullard.

The Marsden Conundrum.
No seriously, guys, it's a pretty stupid show. Look at the production, which was halted halfway through season one so the writers could figure out where the story and character arcs were headed. According to one of the show's directors, the first episodes of the show were shot years apart from each other. YEARS. This means that every obscure clue you've noticed from the initial episodes might have been remnants of entire storylines dumped at the last minute. And when you think about it, has the show even given us any proof that it's well-written?

A MAZE? What an enigmatic masterstroke!
That scalp, for instance, seemed to be an integral part of Ed Harris's plan -- a vital clue for him to reach the Maze. Then he needed Clifton Collins Jr. And then he needed to find a woman with a tattoo. Now he needs to find Wyatt, a character who literally did not exist when his Maze quest began. (Remember, Anthony Hopkins created Wyatt and added him to the park halfway through the season.) How could Wyatt possibly be the primary piece of the puzzle Ed Harris has been trying to solve all this time? I'll give you a hint: The answer is "bad writing."
For the most part, Westworld's "mystery" stems from the showrunners randomly withholding whatever information is most convenient for them. And now that we've gotten that "big reveal," any corner they write themselves into can be traversed by blurting out "That character was a robot the whole time!" The result is a show that seems smart only because it's impossible to have an intelligent theory about something so inconstant. It's like playing checkers against a five-year-old who keeps changing the rules. I call this "The Lost Effect," on account of that show being an endless puzzle that had no intention of being solved.
So if you love Westworld for its mysteriousness and brooding tone, that's totally fine. But at some point, the show needs to explain its ambiguity. Otherwise, it's the TV equivalent of picking up some reticent Asimov-reading hottie at a coffee shop, and then waking up to find that all your clothes have been stolen and there's a cowboy-hatted dump in your sink. You know, that ol' chestnut.
If you're Ed Harris and want to fistfight, contact Dave on his Twitter.
Scroll down for the next article