5 Creepy Crimes We Can Never Solve
Hi, friend! Do you remember that time you were murdered in such a ruthless, strange manner that the crime is destined to mystify law enforcement for decades to come? No? Really? Uh, my time machine's probably off by a few weeks. Forget I said anything.
Still, while you're here, maybe you can help me in a related matter. I've been looking into strange, unsolved deaths and trying to figure them out. However, it turns out that I'm way better at committing crimes than solving them, so I really could use another brain. Here, grab this deerstalker hat and join me as we try to solve some of the strangest bullshit in the history of murder mysteries.
The Mysterious Mauling Of Sir Harry Oakes
Harry Oakes was as close to a real-world Scrooge McDuck as it gets. He earned his first fortune as a prospector in the great gold rush to the Klondike, and then went on to amass several others with a number of savvy business moves. By the 1940s, he was one of the richest men in the world, living in luxury in the Bahamas.
Still, not everyone liked the man. On July 8, 1943, Oakes was found dead in his mansion. The 68-year-old magnate had been brutally bludgeoned to death and partially burned. Apparently, the Scrooge McDuck connotations had not gone unnoticed by the murderer, because the body had also been strewn with feathers.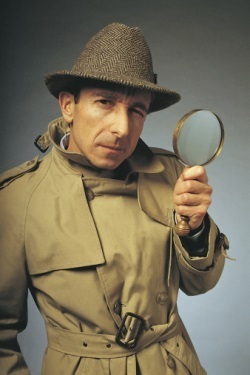 "Burning? Feathers? Case fucking closed, it was clearly a tumor." -- WebMD armchair detectives everywhere
As tends to be the case with grisly high-profile murders, the news exploded all over the media like a fleet of manure trucks crashing into a wind turbine factory. Authorities managed to locate a potential culprit in Count Alfred de Marigny, Oakes' troublesome playboy son-in-law who was on notoriously bad terms with him. However, a trial uncovered both a rock-tight alibi and crooked investigators who had planted de Marigny's fingerprint on the murder scene in an attempt to frame him, so he was soon in the clear.
No other suspect was ever located, let alone brought to court. Still, that doesn't mean that suspicious people weren't aplenty. One of the most famous and creepy people hovering around the case is none other than, oh, the freaking Duke of Windsor. The abdicated King Edward VIII was serving as Governor-General of the Bahamas at the time, and happened to be a close personal friend of Oakes. According to writer William Boyd's investigations, immediately after hearing about the case, the ol' duke descended upon the investigation like a squadron of Inspector Clouseaus, making decisions so baffling that even Frank Drebin would call bullshit. He personally visited the crime scene for literally no reason. He overruled the local police by inexplicably summoning two detectives from Miami, both of whom were personal acquaintances of his. (Hey, can you guess who "found" that planted fingerprint?) He even initially attempted to prevent the media from writing about the murder, and despite his prominence in handling the case, he arranged a trip away from the island during the court proceedings so he wouldn't have to attend.

"I had a note from my doctor. I'm allergic to blatant horseshit."
Still, while this is all highly suspicious, it's unlikely that an ex-king accidentally maimed a rich dude to death in a game of flame pillow war (although you're all free to enjoy that mental image). Most sources seem to agree that the duke was most likely operating out of panic. For an already scandal-drenched member of the royal family, a highly-publicized murder of his domain's wealthiest resident is the equivalent of pooping your pants at a party. There's also the fact that he might have had some shady business dealings with Oakes, which might have motivated the attempt to frame de Marigny (whose guts the duke just so happened to hate).
Pauli's Favorite Theory:
The case has sprouted the exact sea of wild-ass theories you'd assume. Some say the gangster Lucky Luciano offed Oakes in a mob message to the fools resisting his attempts to turn the Bahamas into a gambling paradise. Others claim the murderer was a vengeful voodoo priest whose wife the victim was boning. Or maybe it was Oakes' lawyer. Or his estranged wife. Hell, here's me throwing my own bullshit theory in the mix: It was the asshole poodle of the billionaire next door.

"Can you at least jail the poodle anyway? It kept shitting on my lawn."
Or I guess it might have been Oakes' business partner, who appears to have actually been in the house during the murder. No one ever thought to accuse him because he was totally sleeping soundly two bedrooms away during the killing, honestly, guys.
But that would be just insane, wouldn't it?
Scroll down for the next article