10 Offensive Starbucks Cups (If They Had Balls)
It seems like tradition that every year around this time, a bunch of dumbass news stories pop up claiming that the country is losing its mind over some edgy, political change Starbucks has made to its cups. Every year, we click on those headlines, only to find out it's just a meaningless color variation that a few mentally ill people are freaking out about. And for some reason, that's news.
We're tired of it. Not just because it's a dumb, pointless, desperate attempt to harvest clicks, but also because we really want to see some genuinely offensive shit on those cups. So to help out Starbucks and news organizations alike, we've designed new, actually offensive cups that the chain can use, totally free of charge, so the headlines will at least have some merit.
Hot And Black, Like Your Mom's Dildo
When it comes to offensive, you can't go wrong (right) with a "your mom" joke. Invoke the sexual proclivities of the mothers of your customer base, and that will really set people off. If you think a green cup got taken out of context, there's just no proper context for mommy's dildo on the side of a coffee cup, all veiny and triumphant with a sheen of mom glistening in the light.
May Your Holidays Be Knuckle Deep In Joy!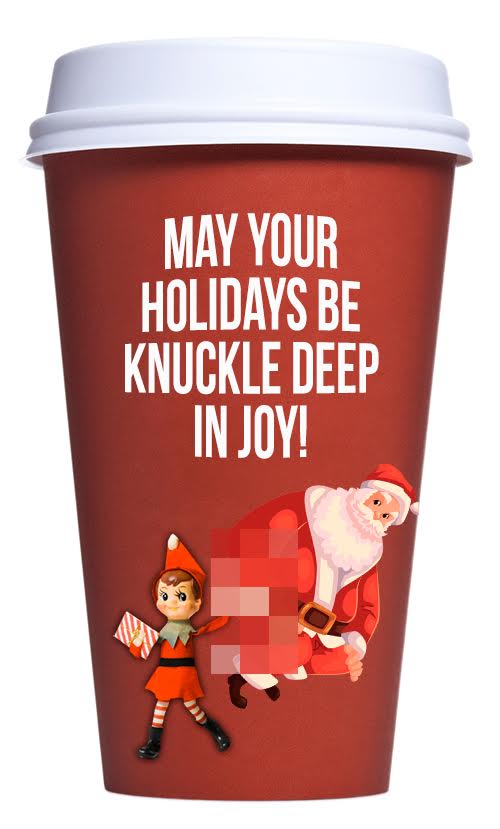 A good thing to do is wish people happiness or joy, but Non-Denominational Lord knows the wording can get you in trouble. "Happy Holidays" is a direct shot across the Conservative bow of Christmas in this war. Making it more explicit, like with an elf jamming his finger in Santa's willing asshole, is sure to offend both sides of the fence, because statistics show that upwards of 69 percent of all Americans are opposed to finger-blasting holiday symbols.
The Real Miracle On 34th Street Is That The Jews Don't Keep Raising The Rent!
Once upon a time, people were offended that the Starbuck fish lady didn't look appropriate or some such. That's swell and all, but how does it draw attention to Jewish people and their monopoly on all things? It doesn't, does it? So this cup handily keeps your beverage warm and reminds us that at any moment, Mr. Goldstein could up the rent and kick us out on our asses. And that kind of concise antisemitism is the sort of thing even Mel Gibson would look twice at.
Keep Christ 12 Inches Deep In Christmas
The right is constantly in fear that somehow the rest of the world is going to remove Jesus from Christmas even more than the orgy of consumerism Walmart thrusts upon us every December already does, and leave us with nothing but a shallow, godless bacchanalia of turkey, presents, and Red Rider BB Guns. Head off those bitches at the pass by putting Jesus balls-deep into Christmas again with an image so offensive that even the Pope would demand it be swapped out for the Devil pooping on Sinead O'Connor's chest.
Wishing You And Yours All The Best, Except Smelly Dominicans
Race is a hot-button issue in America these days, and you know when things get hot, they also get sweaty, and that leads to some masterful BO. Toss in some hapless Dominicans who have no business being the butt of a Starbucks joke, and you got yourself a cup that's going to be on CNN by tomorrow morning, and continue to be there every morning after until Starbucks is a pile of smoldering ashes. But the publicity would be enormous.
Happy Hanukkah To The Zionist Conspirators
Is this the kind of cup Starbucks should be looking for? You may think so at first, but let's take a closer look. Is there really a Zionist conspiracy that needs to be called out on the side of a coffee cup? These days, being antisemitic is actually doubling down on being offensive to create a kind of four-dimensional hyper-racism that previously had never existed. The first layer is, of course, your traditional intolerance of a people for no good or justifiable reason, and then the hyper level of hatred suggests that somehow, after literal centuries of persecution, the Jewish people are still maintaining a massive global conspiracy to control everything and everyone. Of course, if the goal is to be offensive, then yes, this is a winner.
Yo Dog, Have A Good Kwanzaa
This is a perfectly wrong thing to do in 2016. Compare this cup to Starbucks' current green cup, which is being derided for being verdantly liberal, and ask yourself which one is more likely to cause someone to burn down a Starbucks in the middle of a riot spurred on by condescending corporate holiday buffoonery. This is your go-to slogan for blanket disgust and bafflement, in the media and in homes all across America.
Peace On Earth, Except Those Oil Countries
Jesus was all about peace and love, except for when he was out of the room and his followers engaged in a 2,000-year tradition of hate and persecution in his name. But its still offensive to Jesus and the rest of us who don't fly Confederate Flags over our meth labs to wish for world peace with an asterisk next to it, leaving off all the people we don't like.
Goodwill To Men Who Are Straight
Hey, if we're going to piss people off by catering to extremist dipshits, we might as well go the distance. In fact, fuck the cups; this could be the new actual slogan for the company.
Mel Gibson: Hero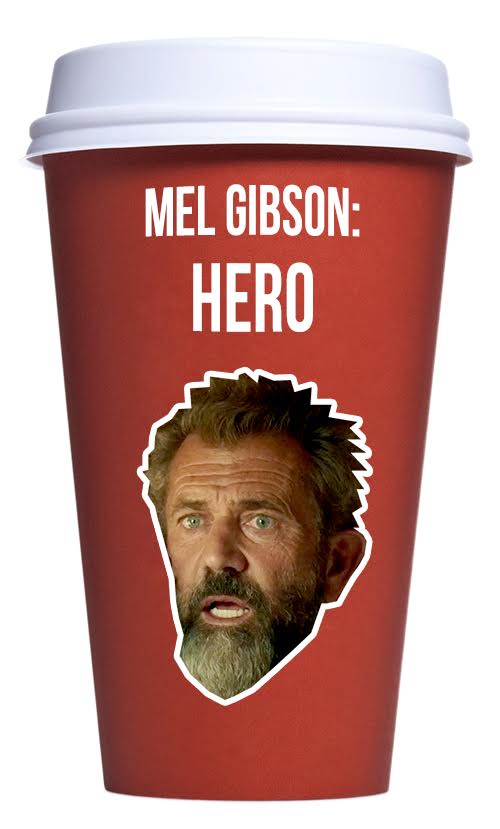 Scroll down for the next article