6 Ways Modern Medical Training Is F*cking Horrifying
Good grades and a driving desire to heal one's fellow man (and to own the keys to a new Beemer) aren't the only requirements for becoming a physician. There are plenty of hurdles medical students must overcome before they can finally earn the right to wear the white coat and whatever the hell that shiny round thing is they wear around their heads. And if you don't have a strong stomach, that's probably a dealbreaker, because nobody likes being puked on when describing their unfortunate nail-gun-to-the-testicles incident. But at least the non-hackers should know that they're in over their heads pretty quick, after they arrive in class and get an eyeful of the nightmarish training aids that are supposed to be less disturbing than working on actual humans.
Prostate Exam And Catheter Insertion Simulators
I fully appreciate that most of what I write is completely superfluous in a situation like this, so let's get down to brass tacks: disembodied rubber buttholes. Not every doctor is a proctologist, after all, with years to spend learning the art of rectal spelunking with cadavers or liberal arts students lured over to the medical school with the promise of a free sandwich. So naturally, there are sturdy and reusable devices available so that the average general practitioner can effectively become an old hand at gloved finger invasions.

Hopefully, the next slide discusses how the doctor would be wise to avoid eye contact and/or small talk.
When a man reaches the age when a yearly prostate exam becomes a requirement, it may not be as fun as the birthday when he became legally able to purchase alcohol, but that doesn't mean there aren't still plenty of opportunities for quick thrills and uncomfortable, regret-filled mornings after. In all seriousness, though, we really do owe our sincerest gratitude to the dedicated medical professionals willing to poke around anatomy's least-sunny grottoes and cul-de-sacs. Especially since I can't imagine that most of them enjoy the procedure, or the mystery involved in not knowing what unspeakable horrors they'll dredge up down there.

That's either where they store the rubber polyps or the page where you can bid on Richard Simmons' quinceanera pinata.
And for those requiring a more immersive quality to their in-depth practice explorations of the dirty dingus, technology has an answer. Nowadays, budding proctologists can interact with an actual robotic ass and receive real-time feedback pertaining to their technique. His name is "Patrick," by the way. If you're less than gentle with your invasive probings, built-in pressure sensors will cause him to respond with a surprised "Ow!" Other examples of his bent-over-the-gurney, nervously-looking-over-the-shoulder banter include phrases like "That's cold!" and "You're rather thorough, aren't you?"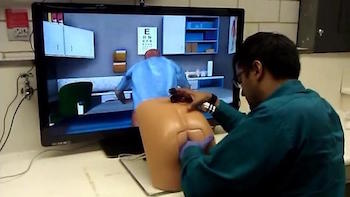 "If you say so, Doc, but this eye exam seems highly irregular."
Hours spent palpating the inner workings of a fake tuchas can presumably take their toll on even the most steadfast of anal scrutinizers, so every now and again it's probably necessary for the medical student to mix things up, flip the patient over, and get to work on honing their skills on a whole new area of unpleasantness. Now, I'm not sure what kind of monster decides to focus on catheter-insertion as a career path, but should taming the wild hog be your goal, then there are also plenty of synthetic apparatuses to help you achieve it. And if you want to remove the detachable penis, take it home, and stick on your fridge as a motivational tool, that's entirely your prerogative.

Luckily, the Hippocratic Oath makes no mention of novelty light switches.
Scroll down for the next article