Justin Bieber's Favorite Knife Fighting Techniques
Hi Cracked readers! We've got something super special for you this week: a sit down interview with Justin Bieber! OMG! We're so jealous of ourselves! We know what you're thinking: Why would Justin Bieber sit down with Cracked, the comedy outlet for dour men with unfashionable hair cuts and strong feelings about Transformers? Well Justin is getting older (he'll be 16 and a quarter this June!) and his representation has been looking for ways to diversify his appeal to a more mature audience. But is that actually us? ROFL.
This should also help get a lot more pre-teen girls hanging around here, which several of our forum members have been clamoring for. So we flew Justin out for an interview. Things got off to a pretty slow start. Most of his responses went along the lines of, "I like hanging out," or "I like sensitive girls," or "my favorite color is purple." Which, don't get us wrong, was really super exciting, but maybe not what our regular readers were accustomed to. After some gentle mocking on our part, Justin started to get the hang of what Cracked interviews were all about, and soon enough he got into it. Really into it. Things actually got a little weird. You'll see. Anyways! We hope you enjoy Justin Bieber's favorite knife fighting techniques! OMG! ______
I love reading books about knives. My favorite book is Knife Fighting Secrets of the Navy SEALs. It was written by a real tough guy named Frank Damage. OMG! I always hold my knife out in front of me in the Khat Man'bhak style. I think it's the coolest! The knife fighting book I read while on the road says that this is the preferred way to gut a chicken thief and make his widow weep for a thousand nights. How cool is that?
One of my most embarrassing stories is when I was in Chicago I asked one of my bodyguards to go find a homeless guy who I could practice my knife fighting on. But they told me it was illegal! I could have gotten in real trouble if I didn't know that. We had to actually trick the homeless guy into attacking me. That made everything that happened next OK. Even though it was OK we still left town really quick the next day. Better safe than sorry LOL! If I know I'm going to be traveling on an airplane, I'll always take one of my ceramic knives with me to get through airport security! I'm SOOOOOO bad sometimes! Remember that many ceramic knife manufacturers put metal in their knives to stop people from doing this – that's why I get all my ceramics shipped to me direct from a guy I met in Nicaragua. His name is Carlos and he said I was too pretty to be a knife fighter, and that it made him sad to see what I was becoming. Sometimes adults can be so random!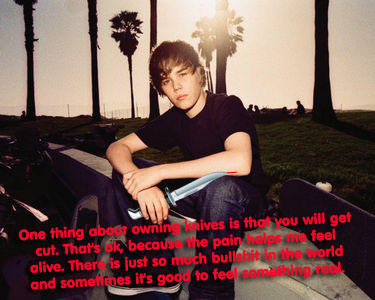 Fuck Brandon Jacobi! That fucker pushed me down the stairs in the fifth grade, and if I had a knife back then he'd be dead, and everything would be better. FUUUUUUUUUUUUUUUUUUUUUUUUUUUUUUUUUUUCK! Sometimes I think about marrying a knife. I could totally see myself doing that. I don't care what Jesus says. What's he going to do if I have a knife? Nothing, that's what. What if someone came at you with a knife and you had to defend a girl you really liked? What are the odds of that? One in a zillion? I know it's really unlikely. Then why is it when I close my eyes, I can think of nothing else? What's wrong with me?
A lot of books talk about cutting off trophies after you win a knife fight. I've always wondered what sort of trophy I'd take if I got really into this. I don't want to say "penises," but that's what my mind keeps circling back to. __________