5 Steps to Writing Successful Erotic Fiction
As most of you know, Cracked.com is actually my night job. My real job is, and has been for the last several years, Chief Editor in Chief at O'Brien & "Sons" Erotic Fiction Publishing House, where I've been overseeing the publishing and distribution of thousands of the most successful Erotic Fiction novels to hit the stands. If you picked up an Erotic Fiction Novel (EroFicNov) over the last decade, chances are it carried the O'Brien & "Sons" label. As you can imagine, a ton of Erotic Fiction Manuscripts (EroFicMan) have come across my desk over the years, some of it great, some of it not so great. To answer some of the questions I get regularly, and to make my job easier, I'm going to list all the important steps to writing great Erotic Fiction, everything that separates the un-publishable from the publishable. Follow these instructions and, in no time, you'll write something so great it'll make The Way of a Man with a Maid look like The Lustful Turk! Be Original, People! I can't tell you how many times I've rejected the same, stale Erotic Fiction premises (EroFicPre). A pizza delivery guy enters and seduces with a housewife. A rich prince sweeps a poor, delicate woman off of her feet and into his bed. A painter is so overcome with the beauty of his model that he abruptly stops his work and romances her/masturbates in front of her. A vampire and the twins from that Harry Potter movie fuck in a cave, somewhere. A stale premise won't get your foot in the door, which is why originality is the single most important part of Erotic Fiction. The Erotic Fiction Community (EroFicCom) is overrun with these premises. Surprise us! Show us something we haven't seen before, or your Erotic Fiction will live at the bottom of the bargain bucket with the rest of the literary world's excrement. It's easy and lazy to say that all of the good premises have been taken. True, the remaining premises don't immediately lend themselves to Erotic Fiction, but with some creativity, I'm confident that you can make anything sexy! At the zoo!
Pizza REMOVAL Guy! (What a twist!)
Erotic Historical Fiction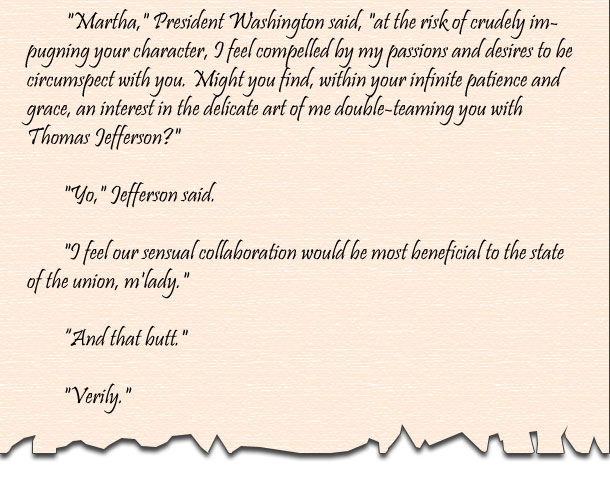 Erotic SCIENCE Fiction?
Wish Fulfillment

When people buy Erotic Fiction, they're doing so to live out their sexual fantasies, the kind of fantasies they're too nervous to ask their real-life partner about. This bears repeating: Erotic Fiction is what the reader cannot get in real life. Understanding this is the key to unlocking success in the publishing world and is, without a doubt, the most important part of Erotic Fiction. So don't give them what they can get at home, give them something fantastical and amazing, fulfill all of their wildest desires. In the following sample (Autobiography: My Life in Six Butts), we see what, according to my best guess, every average woman craves but doesn't get at home.

Sample:
Details, People!

While it's stupid to deny that Erotic Fiction is chiefly about fornicating, it would be dismissive -not to mention detrimental to your writing- to say that it is only about fornicating. Think of Erotic Fiction as a Tootsie Pop. Fornicating is certainly the rich chocolate center that everyone craves, but we still need that thick, delicious shell of candy that accompanies the chocolate/fornicating. And what hides in that shell? Details. Nobody wants to read about just "two bodies fucking," they want to know that those two fucking-bodies are attached to fucking-people with hearts and souls (that fuck each other). The reader wants their characters to be real and human which is why details are, hands down, the most important part of Erotic Fiction. Give your characters lives. Who are they? What do they look like? How do they dress? There are only two and a half ways to have sex, and there's nothing you can do about that. It is in the details where you can get creative and separate your piece of Erotic Fiction from all other competing titles.
Dialogue, People!

Dialogue is the most important part of Erotic Fiction. I know, you want to just rush into the fornicating, but dialogue helps round out your characters and establish the mood. Also, don't miss an opportunity to have fun! Dialogue is your chance to get creative, get silly, get naughty. I've included several samples from my own work. What follows are a number of lines of dialogue for which I've received much critical praise. "Did somebody order a boner?" -From A Fistful of Seduction "Is it me or did it just get boner in here?" -From The Thunder Strikes 12 at Midnight "Boner? I barely know her! And, yes, I have a boner." -From The Great Gatsby II: Gats ta Git Dat Booty "On your mark. Bone set. Boner!" -From Fucked at the Olympics! "...Yeah? More like 'Bonercane Katrina,' and instead of your house I'm going to utterly destroy that vag!" -From Love in the Time of Post-Disaster New Orleans: A Memoir Also, let double entendres be your friend. A Double Entendre is when you say one thing but you really mean fucking. Double entendre-laden dialogue, in fiction and in life, is like verbal foreplay and an excellent way to build sexual tension in Erotic Fiction (SexTenEroFic). In the below example from A Sex Day at the Fuck Races, see how Mary and Bort, two relative strangers, speak indirectly about sex through the use of running-themed double entendres.
When In Doubt, Just Write About Two Bodies Fucking

That's honestly all people want. It's both the most important and the only essential part of Erotic Fiction.

Sample:
Scroll down for the next article