How To Hack For The Good Guys With The Cracked Store
This is a piece written by the people who run the Cracked Store telling you about products that are being sold there.
The media reports on election hacks have become so frequent that we're willing to bet modern babies' first words be "Russian probe." And while it might feel like hackers are only going after corruptible politicians and the occasional celebrity Instagram account, the reality is that nearly half of all Americans have their data compromised. But before you Lord Of The Rings your laptop into molten lava, know that there is an entire industry devoted to reinforcing our digital defenses, and you can be a part of it.

No Gollum required.
Why is hacking such a big deal?
Cloud software has taken over the desktop, meaning that just about everything you do on your computer, phone, tablet, and internet-connected juicer is susceptible to data theft. And that's not even taking into account how readily people give out information in today's world. For instance, have you ordered delivery online today? Well, you probably had to sign up with your street address, meaning all it takes for someone to know where you live is exploiting the ironclad cyber defenses of Joe's Discount Pizza and Pet Meds. Basically, the internet is in its Wild West phase, and if we don't get more "ethical hackers" to protect us from these cyber thieves, then we may all be screwed.
What do ethical hackers do?
Ethical hackers are a specific breed of information security professionals who primarily use a technique called penetration testing. And while "penetration testing" sounds like how an MIT grad would phrase a game of "just the tip," it's really a way to check for flaws in a computer system's cyber security. We won't get into too much more of the technical mumbo-jumbo, but just know that even a basic understanding of hacking will better prepare you to protect yourself. You can learn the fundamentals with online resources like this Certified White-Hat Hacker & Penetration Testing Course, and then laugh at the suckers who try to jack your info.

"Not today, SatanLoLz420YOLO. Not today."
What kind of salary can you expect?
If you choose to make internet security your career, it can be extremely lucrative. Ethical hackers can expect to make between $60K and $100K annually, with more experienced professionals making nearly $130K. You can buy a lot of Joe's Discount Pizza with that kind of money. And pet meds, too.
Can you have this career without a degree?
Absolutely! Although there are university degree programs available, getting into ethical hacking only requires proper training and experience. Even former criminal hackers can un-Grinch and help return all the stolen presents. (We expect TNT to pick up this premise any day now.) All you need are the following certifications:
-- Certified Ethical Hacker (CEH)
-- Computer Hacking Forensic Investigator (CHFI)
-- Certified Information Security Manager (CISM)
-- Certified Information Systems Auditor (CISA)
-- Certified Information Systems Security Pro (CISSP)
And if you want to get started, our Computer Hacker Professional Certification Package has over 60 hours of instructional content tailored specifically to these five certification exams.
What else does it take to become an Ethical Hacker?
All you need is patience, time, and the commitment to learn the necessary programs and techniques. Other than that, maybe a cowboy hat if you lean into the whole Wild West thing, branding-wise? A sheriff's badge, maybe? We don't know. It's your creative decision. Otherwise, here are the online resources you'll need to get you up to speed on ethical hacking -- cowboy hat and sheriff's badge not included.
Certified White-Hat Hacker & Penetration Testing Course
This crash course in ethical hacking will introduce you to the fundamentals of penetration testing and vulnerability scanning. You will learn a variety of hacking techniques specific to desktop computers, websites, and wireless networks. Get it for $18 and save over $30 off the usual price.
Computer Hacker Professional Certification Package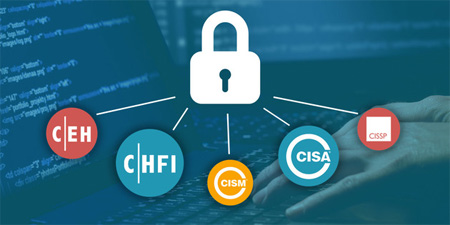 Once you've gotten a lay of the land, this course bundle will help you take your skills to a professional level. Over 60 hours of content will prepare you for the professional hacking certification exam. Usually $1,500, get this comprehensive course bundle for $59.
Computer Hacking Forensic Investigation & Penetration Testing Bundle
In addition to learning network monitoring and password cracking techniques used by penetration testers, this course offers a deep dive into computer forensics and data recovery. You'll learn how to conduct formal investigations and gain insight into the proper ways of handling digital evidence for court cases. Nearly a $5,500 value, you can grab this package for $59.
Certified Ethical Hacker Bootcamp
This boot camp offers an extensive survey of ethical hacking practices. Discover topics like distributed denial of service attacks, Trojans, SQL code injection, and cryptography to get familiar with all types of cyberattacks. Pick this one up for $45, and save a whopping 99 percent off.
Become An Ethical Hacker Bonus Bundle
Offering a curated collection of focused courses, this bundle will be a great addition to your infosec resume. Learn core penetration testing techniques and gain insight into lesser-known web threats. This package also includes professional development courses designed to help grow your career. Reduced from $681, get this bundle for $49.
Scroll down for the next article