So Your Giant Ape Escaped And Is Destroying The City: FAQs
Oh dang. Dang man, dang.
What's the problem?
My giant ape. It's terrorizing the city.
Neat! Let me just check my reference shelf here for the right volume. Now, how big is this giant ape? Are talking like a gorilla, or ...
Like a King Kong.

But not him, specifically. He's owned by someone else.
Excellent, that's what I was hoping for. OK, let's see here ... Where did you find this beast of legend?
Hubris Island.
Say no more. Having spent an unusual amount of your free time around sailors, you heard rumors of an island populated by enormous beasts, unspoiled by the sight of man.
I wouldn't say it was an unusual amount of time, but that's basically right.
And so after a long sea voyage, you arrived. And after seeing the beautiful creatures, you thought, "Hey! When on Hubris Island, why not hubris a bit?" And so you decided to tame the untamable.
It sounds kind of foolish when you put it like that.
But somehow, improbably, the untamable could not be tamed! Once you returned the beast to the city, it broke loose and is now wreaking havoc on the innocent.
I'm sure some of these people aren't innocent.
Oh, certainly. But is the beast throwing cars and bellowing and swatting down planes?
Why do they fly the planes so close?
To raise the dramatic tension, I think.

Also hubris, possibly.
So what should I do?
Well, if the army has already tried planes and tanks and such, it's unlikely we'll be able to stop this beast using brute force. Which means you're going to need a giant banana.
To feed it?
That's what I was thinking, but I suppose if the banana was giant enough, brute force might actually be an option again. Like, if you dropped it from orbit. Do you have a banana that large in Earth orbit?
Double no.
OK, we'll just have to go with feeding him a regular giant banana then.
That's just a single no, now.
You don't have any giant bananas? What were you intending to feed this creature?
I was trying to civilize it! So ... fast food.

"Yeah, I'm going to need the large. No, larger than that."
Well, if you completely ignore its natural diet like that, of course it was going to go bananas. Do you know what the giant ape ate on Hubris Island?
Dinosaurs? But I also don't have any of those.
Well, you're in luck, because dinosaurs aren't too far removed from birds. Do you have several hundred chickens on hand?
Yes, obviously.
Good. Arrange the chickens in a pleasing fashion for the beast.
What would please it?
Put them in a bowl or something. Just don't just throw them in a heap. Care a little.

Maybe stack them up in a pyramid.
*several minutes of clucking and panicked shouting*
Well that didn't go well. The chickens didn't stack as neatly as I think you were hoping they would. Then the ape saw them, but instead of being pleased, he roared and they all ran off.
I guess that's where that old saying comes from -- "Don't count your chickens before they're stacked."
That's not an old saying.
It is. It's very old. You probably haven't heard it. OK then, let's see what else we can try. *sound of flipping through pages* Hmmmm. Regarding the ape's gender ...
It's a male.
... are you sure ...
Very sure.
... that it's ...
Extremely sure.
... male?
So sure. Not ever questioning it again. Like a swinging goddamned obelisk.
OK. Good, good. That's a great sign.
It was actually quite a scary sign. But why do you think it's a good sign?
This ape is obviously a mammal of some sort. Hair, warm-blooded, that kind of thing. Poop?
Gods, yes.
Yeah, so he's not like a magical being. He's real. Which means he must have come from a mama giant ape. Which means that these giant apes reproduce sexually, and you've taken him out of his natural environment for weeks now. He's probably horny.
...
You still there?
Yeah. I'm just trying to decide if this is going to end with me dressed as a sexy girl ape.
I don't see why it would end that way. I mean, if we do end up doing that as an intermediate step, it would almost certainly end in your grisly death.
Which you're trying to avoid.
I've got a few goals with my advice here.
Oh no!
Don't freak out. Avoiding your grisly death is like #6 on the list. That's pretty high!

Well into the single digits!
No, not that! The ape is throwing a car at me!
Get out of the way of the car he's throwing!
Thanks!
*the distinct and unmistakable sound of a car being thrown into a costume shop*
Are you OK? Grisly alive?
Yeah. The car went through the front of a costume shop.
I heard that. So is it fair to say there are now gorilla costumes readily at hand?
Fuck you. And also, no, the store appears to be completely destroyed.
Hmm. That's two of our plans the beast has preemptively foiled now. It's almost as if he knows what we're ... Oh! Of course!
What?
There's been something bothering me about this right from the start. It's just so squicky -- you know, trying to "civilize" someone or something. What if the beast already was civilized?

It's just stacking rocks together. It's not hard.
We should probably stop calling him "beast," then.
Agreed. Holler at the glorious ape. Find out what it wants us to refer to it as.
I'll try. Hey! Glorious ape! What do you want to be called!
ROGER.
See? That's one of the most civilized names there is. I'm going to holler at the ape now for you.
Go right ahead.
Hey, Roger?
YES?
This guy is sorry about kidnapping you and bringing you to the city and trying to civilize you.
I SEE.
You're already civilized, aren't you?
YES. BOOKS. THE WHEEL. CHAT ROOMS. MY PEOPLE HAVE IT ALL.
Where was all that?
YOU STUCK MAINLY TO THE TOURIST SECTION OF HUBRIS ISLAND.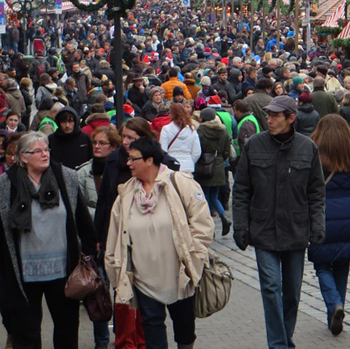 Oh cool, Hubris Island has a Prada factory outlet.
Ahh.
Anyway, this dude, and all of us humans, are really sorry about this. It's funny! In a way, it's almost as if the humans are the monsters after all.
YOU THOUGHT WE WERE MONSTERS?
Yes, but we stopped that.
THAT WAS NOT VERY WOKE OF YOU.
Definitely not. But now that we've agreed on that, and you can see that we're speaking to you as an equal, do you think you could stop wrecking the city?
OH NO. I LIKE WRECKING THINGS. I WAS GOING TO DO THIS ANYWAY.
But why?
THE CHUCKLES.
OK, so the problem here is that, although this ape does come from a civilized society, as in many advanced civilizations, there appears to be an element with strong antisocial tendencies living within them.
Which means?
He's a troll, basically.

Except this one isn't scared to leave his house on occasion.
So what should we do?
Well, most trolls thrive on attention, so we could just try ignoring him.
I'D STILL WRECK YOUR SHIT, THO.
Yeah, there's that. Hmmm. There is one thing.
What?
Trolls also like humiliation. Manipulating people. Making them uncomfortable. This could work.
What could work?
Shhhhhh, gentle prince. I'm trying to help you. Roger?
YES.
Would you leave the people of the city alone if you could dress up this dude like a sexy girl ape and make him dance around?
DOES HE WANT TO DO THIS?
No!
THEN YES, ABSOLUTELY.
*the distinct and unmistakable sound of a man being forcibly dressed as a sexy girl ape*
Argh!
Well, there you go. Your giant ape is no longer terrorizing the city. One, it was never "your" giant ape in the first place -- that's unmoral and dangerous thinking. And two, you're now very much his possession.
VERY MUCH, YES.
Should you desire any further advice, please consult our guide, So You're Now Dressed Up As A Sexy Girl Ape And Being Forced To Dance Like A Doll.
See why giant apes are scientifically impossible in 6 Movie Monsters That Just Wouldn't Work, and check out King Kong's horrible sequel in 5 Little-Known Sequels That Ruined Iconic Stories.
Subscribe to our YouTube channel to see how getting punched in the face makes it tough to remember names in If Boxing Were Even Less Legitimate, and watch other videos you won't see on the site!
Also follow us on Facebook, and maybe Chris Bucholz will give you sage life advice directly.
Scroll down for the next article