8 Horrifying Uses of Branding (Feat. Hello Kitty Pads)
Fun Fact: Until the late 1800s, these could only be found under bridges.

If I had to guess I'd say this was all designed by a well-meaning individual who slapped images whole hog across the entire Cafepress playbook, not particularly stopping to consider that thongs come along with the deal. Or they were well aware of it and figured the little Bishop already looks sort of Catholic, so why not deck him out in full regalia.
Smurf Toilet Paper
Novelty toilet paper has been around for a while now but never really caught on with anyone whose home isn't on wheels or constructed mostly of packing materials gleaned from dumpsters behind a Wal-Mart. Why? Because toilet paper's at its most productive when it's sliding down your ass crack and therefore doesn't need any novelty application. It's its own novelty. Nonetheless, some hilarious Larry the Cable Guy fans occasionally produce Osama bin Laden toilet paper and someone made some Barack Obama toilet paper so that you may express political opinions when you're in private contemplation. Those innovative Japanese even have manga toilet paper, so you have a story to keep you interested as falling asleep on the crapper out of sheer boredom is a big issue over there. The downside, of course, is when another family member wipes away the climax of the story you're reading, forever making you bitter towards their selfish bastard bowel movements. But none of that explains what the Smurfs did to deserve the scorn of so many asses nor why consumers would feel the need to teach Papa Smurf who's really in charge by smearing their evil across his little blue face.
SpongeBob Music Rectal Thermometer
Few children get sick and then wait with giddy impatient delight for mom to jam a thermometer through the backdoor. Those that do grow up to have a lot of cats. For the rest of us, having our internal body heat measured rectally was a very solemn process. Never the less, those wacky kids over in their SpongeBob factory figured the one thing missing from every child's sick ass was music. The SpongeBob theme should burst forth from every anus as the patient's temperature is being taken as a constant, surreal and unforgettable reminder that something shaped like a cartoon character is jammed inside them. Lest you think this is just faulty research skills or a regular thermometer that isn't necessarily for the ass, rest assured that right on the label it explicitly says "for the ass."
For those with a little more dignity, there's a Winnie the Pooh rectal thermometer. The downside to the Pooh thermometer is that it doesn't play a fun tune to let you know it's acclimated itself to your ass, so you'll just have to use your eyes to figure it out. However, it has Pooh right in the name. Was that joke so obvious everyone just refused to acknowledge it at the time this thing was conceived or what?
Obama Dildo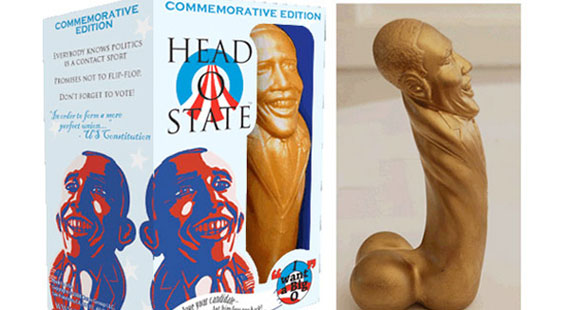 Call me crazy, but I thought a big part of the reason Obama got elected was because people didn't think he was a dildo. Like America just went on a no-dildo jag and decided to try having a dong-free government for a spell just to see what they thought. But I dropped out of poli-sci in my first year so I know about as much about politics as I do about sculpting dildos to look like political figures. The observant amongst you will have noticed a theme in this entry. The packaging itself leads you to believe this dildo is meant as some kind of tribute to Obama because, hey, some people show their support in kooky ways. But having researched many an article on deviant sexuality--and by research I mean downloaded and saved for late night weeping sessions--I can assure you a dildo is not a tribute. Because somewhere out there is a dude who looks like the bastard child of Bruce Villanch and Jabba the Hutt just waiting to plow his underflaps with Barack's finely coiffed rubber hairdo.
Twilight Underwear
I already put underwear on this list once but I refuse to not acknowledge what is arguably the worst product in the history of humanity, and I'm including everything on the Arby's menu when I say that.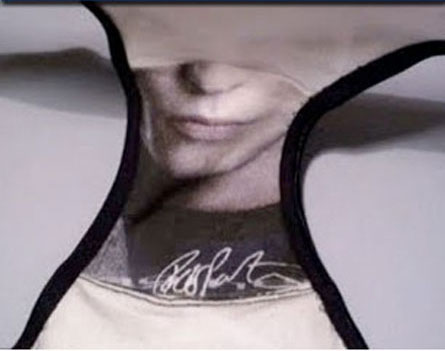 Look, it's autographed. Now jam your groin in there.

You'll notice on the inside, the most crotch-saturated portion of the garment, is Baron Von SternBrow's surly mug. He's just sitting there on what us refined folk call the gusset, faintly lipglossed, waiting for some desperately lonely fan's undercarriage to settle in for the most disquieting round of CPR ever conceived. Why so glum? Possibly because he's aware that could potentially result in spending the rest of the week until laundry day sporting a most unfortunate goatee depending on the hygiene of the person wearing it. If anyone out there has actually purchased this product, then damn you. Damn your very soul you depraved, completely fucked individual. If you haven't fully appreciated the depths of "for fuck's sake" that this product plumbs, stop to appreciate the Twilight demographic, which seems to mostly be underage girls. That face you just made was your soul puking in its own mouth.