The 5 Most Badass Things You Could Actually Ride to Work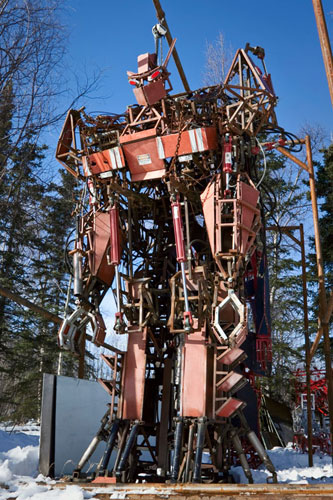 It was a better dream. After working for years as an army mechanic, Owens decided to use the skills he learned there to build a giant functional battlemech (wait, we have mechs in the army now?) Carlos' machine is equipped with 27 hydraulic cylinders in place of muscles, which it uses to mirror the pilot's arm and leg movements.
"And... other movements. You know what I mean, ladies?" In an interview with Popular Mechanics, Owens initially talked about how he saw potential uses for this technology in everything from construction to the armed forces, but then, when pressed, he admitted to secretly just wanting hardcore mech-on-mech gladiator battles. I would have something snarky to say, but honestly, I'm just glad somebody's finally got their fucking priorities straight. May God bless you with ingenuity, Mr. Owens, in equal or greater measures than he has insanity.
La Machine Spiders
That, friends, is a giant robot spider. The end. What, seriously? You require more information? All right, but frankly I think that's being a bit greedy. Built by French artists La Machine and debuted in Japan, pictured above is one of the two (two!) spiders deployed in Yokohama either for some sort of festival or city-wide vengeance. I'm not really sure why it was there, and I am unable to check at this time because I refuse to look away from that thing even for a moment. Objectively, I know that's just a picture. But I simply do not have enough confidence in my senses to risk glancing away, just in case they're wrong and that thing's actually in the room with me.
Don't look up don't look up don'tlookup dontlookupdontlookup I will tell you what I do know off-hand: It comes equipped with steam and water cannons to the front and rear--hopefully some sort of anti-Will Smith alarm comes standard--and if you ever actually get up on one, Captain Planet will appear out of nowhere and try to fight you. It seats three drivers, but if you actually find two more people willing to ride shotgun on your rampaging spider-bot, be wary: Skeletor and Cobra Commander don't get along these days and I have it on good authority that neither will chip in for gas money.
---
You can pre-order Robert's book, Everything is Going to Kill Everybody: The Terrifyingly Real Ways the World Wants You Dead on Amazon, or find him on Twitter, Facebook and his own site, I Fight Robots, where you can personally lament the absence of Cringer. If you got that reference, will you play He-Man with me? I'm so lonely...