4 Scenes From Books That Were Too F***ed Up For The Movie
Look at the most successful movies of all time, and you'll see that many are adaptations of the most successful books of all time. Hollywood doesn't like to take chances (short of casting Shia LaBeouf time and time again, even though they know for a damn well fact that he's Shia LaBeouf), and a popular book already has a diehard audience that can't wait to go to the cinema and then bitch online afterwards about what's been changed.
But there are some scenes in the original books that Hollywood was absolutely, positively, 100 percent correct to cut out.
Trigger Warning: There is some horrible stuff ahead which involves sex, violence, and babies. All at the same time.
Trainspotting And The Threesome With A Baby
Irvine Welsh's debut novel Trainspotting was shortlisted for the Man Booker Prize until some of the judges threatened to quit over it. This Ivory Tower English snobbery caused a bit of a ruckus, with many people being really pissed off that it didn't make the cut. But if you've ever read the book, you know that there is some seriously crazy, unfilmable shit in there.
The book follows the lives of a group of professional junkies as they avoid work, get high, and hallucinate babies on the ceiling -- the usual pastimes of the drug-addled. The movie is a great adaptation, cutting out some of the weirder parts and accentuating others, and it made Ewan McGregor a star so he could go on to play Obi-Wan Kenobi.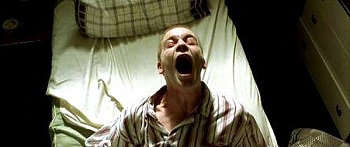 "You were my hook-up, Anakin. I loved you!"
Remember the scene in the movie in which Renton and Sick Boy are hanging out at the park and Renton shoots a pit bull in the balls? Well, in the book, it's Simon who takes the shot, the dog mauls its owner, and Sick Boy runs over and chokes the dog to death with a baseball bat. You know, just for kicks.

Welcome to the only time when shooting a dog and leaving it at that is the humane option.
Strangely, that's not the most horrifying part ...
The Scene From The Book:
The single most fucked-up part of the book that didn't make it to the cinema comes when Renton attends his brother's wake at his parents' house. His brother just died doing a tour of duty in Belfast, and has left behind a very pregnant, very messed-up widow. So Renton does the gentlemanly thing and ... well:
Yeah, so ridiculous dialect aside, we have our main protagonist porking his dead brother's pregnant widow at his dead brother's wake, all the while wondering whether or not it counts as a threesome since there's a baby in there. Dr. Suess couldn't even make that sound funny. Well maybe. Maybe he'd say something like "One inch, two inch, red inch, blue balls. This one's in a dead bro's wife, this one's going to be causing strife." Nah, he wouldn't say that.
Anyway, if the sister-poking wasn't enough, Renton's just come off a week of being wasted and isn't exactly hygienic:

Who else is suddenly hungry for cheese?
At this point, we're probably all thinking that maybe it shouldn't have been on the Booker shortlist after all.
Scroll down for the next article