4 Ways Trump Outrages Liberals (Obama Got S**t For, Too)
Roughly one month into power, President Donald Trump's administration has caused more gaffes than a gaffelypse in Gaffetown. Has any administration ever caused this many partisan shitstorms in so little time?
Nope! But that's not entirely the fault of Trump or his sinister cabal of advisors. Their legitimate scandals (like the fraudulent Trump foundation, hosting foreign diplomats in his hotel, or that fake college he ran) get buried in an ocean of stories like this:

Feel free to make your own "I'm Rick James" jokes.

Social media makes the barrage of nitpicky criticisms feel new, and some of it is (we've never had a member of the President's staff advertise for his daughter's clothing line before). But a lot of it has nothing to do with Trump, because for some reason all of us, left and right, want to hate opposing presidents for the exact same bullshit reasons. And that's why with every change of power, we get regurgitated stories like ...
"He's Disrespecting The Oval Office!"
Let's be honest here: The Oval Office is just a round room where, statistically, most of our presidents have done the majority of their farting. But thanks to internet news cycles, every eight-ish years, it becomes a holy shrine to one half of the country -- usually the side that opposes the president. A month ago, there was a minor controversy over how Steve Bannon dressed in the Oval Office:

Note: He was wearing a giant turkey costume.

And while Democrats are the ones shrilly proclaiming the sanctity of the Oval Office today, Republicans got just as butthurt eight years ago, when President Obama dared to put his feet on a desk.


You. Fucking. BASTARD.

Does it look familiar?
LBJ whipping out his dick (nicknamed "Jumbo") at everyone who passed by the Oval Office didn't dishonor it, and neither did Warren Harding's bootleg whiskey habit, but sit the wrong way or put your shoes on the wrong thing, and you can rest assured at least half the country will call for your fucking head.
The truth is that the Oval Office is a working goddamn office. And when people work really hard out of one room for years while constantly surrounded by cameras, they're going to get caught looking less-than-airbrushed:
And by the way, Steve "The Human Jowl" Bannon's failure to wear a full suit in the Oval isn't exactly novel either. Back in 2009, George W. Bush's former chief of staff attacked President Obama for allowing his staff to go without jackets in the oval office, because Lord knows nothing productive was ever accomplished without a blazer.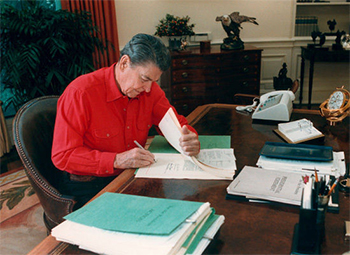 Have some respect, you fucking savage.

On the upside, at least that's one piece of common ground between the left and the right. Both sides suddenly become convinced the Oval Office is sacred as soon as their guy leaves it.
Scroll down for the next article