'The Importance of Being Weird': 15 Trivia Tidbits About Gary Larson's 'The Far Side'
From 1980 to 1995, some of the most subversive pieces of art could be found in your local newspaper's comics section. Gary Larson's The Far Side, the beloved strip full of cows, non sequiturs and non sequiturs involving cows, has been credited as being a forerunner to meme culture, as it, along with the numerous webcomics that populate our social media feeds, have a bit of The Far Side's comedic DNA at their core. That alone would be enough to rightfully label Larson as one of the most influential comedians of his era, and that's before we get to him affecting actual science. 
Click right here to get the best of Cracked sent to your inbox.
From Larson's love of bovines to how he handles controversy, here are some trivia tidbits about The Far Side... 
Born on the Far Side
Larson was born in Tacoma, Washington, on August 14, 1950. He now resides in Seattle. 
Larson Didn't Formally Study Art
According to his official website, "Larson didn't formally study art, nor did he consider being a cartoonist. He graduated in 1972 from Washington State University with a degree in communications but took many classes in the sciences. In 1990, Larson received the Regents' Distinguished Alumnus Award and was the centennial commencement speaker. His talk was titled 'The Importance of Being Weird.'"
'The National Humorist of Natural History'
Larson's love of science found a regular home in The Far Side comics. According to Harvard professor and science writer Stephen Jay Gould, Larson is "the national humorist of natural history."
Larson Named the Spiky Stegosaurus Tail
In 1982, Larson ran a comic featuring a caveman presenting a slide with a stegosaurus' tail and telling his audience, "Now this end is called the thagomizer… after the late Thag Simmons." Real paleontologists had not actually named the spikes on a stegosaurus' tail at that point and have since adopted the word "thagomizer" for it.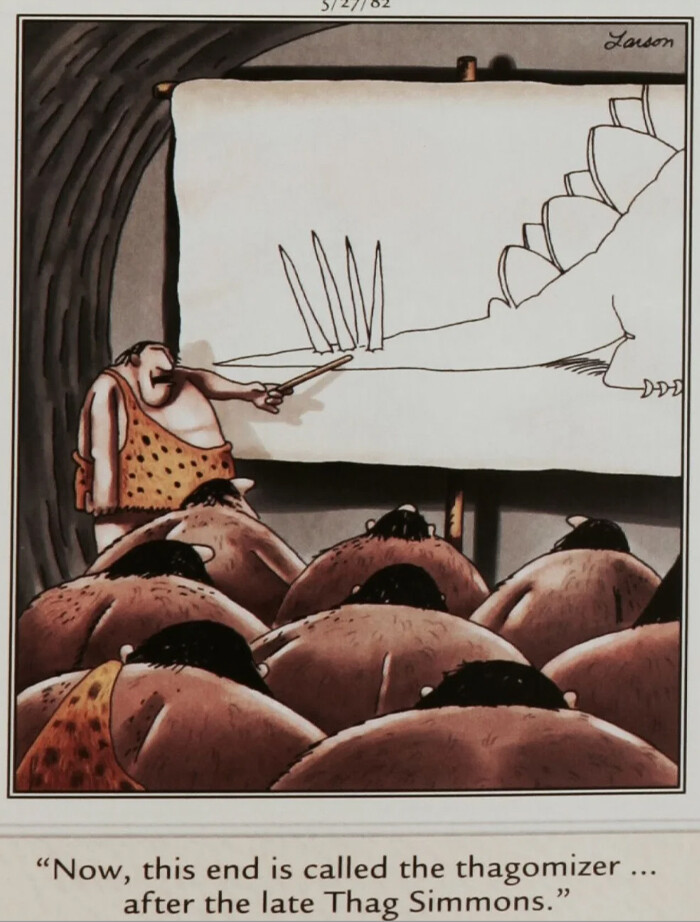 He's Also Got a Bug Named After Him
A scientist named a chewing louse, a type of lice, Strigiphilus garylarsoni, after Larson "in appreciation of the unique light he has shed on the workings of nature."
The First Caveman
The first Far Side comic hit newspapers on New Year's Eve 1979.
It Wasn't Always Called 'The Far Side'
The original title for The Far Side was Nature's Way, but it was switched to The Far Side when it became nationally syndicated. The new title was suggested by the San Francisco Chronicle, with Larson okaying the change and joking that they could have called it "Revenge of the Zucchini People," and he'd be fine with it.
Cows: He Just Thinks They're Neat
Many of Larson's most beloved Far Side comics featured cows. When asked to offer an explanation for this, Larson replied, "I've always thought the word cow was funny, and cows are sort of tragic figures. Cows blur the line between tragedy and humor." Beyond that, he's simply admitted to having a general "fondness" for cows.
Bobbing for Poodles
Once in a while, Larson's darker sensibilities would get him hate mail. Such was the case in 1992 when dog lovers objected to a comic entitled "Bobbing for Poodles," which featured alligators surrounding a barrel.
In response to the hubbub, Larson joked, "Thank god I didn't go with my first caption, 'Bobbing for babies.'"
'The Far Side' Has Been Highly Decorated
Larson won numerous awards for The Far Side, including the Reuben Award for Outstanding Cartoonist of the Year from the National Cartoonists Society in 1990 and 1994. In 1985 and 1988, he won Best Syndicated Panel Cartoonist, and in 1993, he won the Max and Moritz Award for Best International Comic Strip Panel by the International Comic Salon.
There's an Animated 'Far Side' Special
In 1994, CBS aired Gary Larson's Tales from the Far Side, a half-hour animated special full of anthology stories in Larson's distinctive style. A follow-up special, Tales from the Far Side II, aired on the BBC in 1997.
His Last Comic Was a Nod to 'The Wizard of Oz'
The last Far Side comic ran on January 1, 1995, featuring Larson going home like Dorothy in The Wizard of Oz. 
Why He Retired
In late 1994, Larson explained why he wanted to end The Far Side, saying, "As for the reasons behind my retirement, they mostly center around simple fatigue and a fear that if I continue for many more years, my work will begin to suffer, or at the very least ease into the graveyard of mediocre cartoons."
He Finally Got a Website
After years of fighting the presence of his cartoons online, Larson launched thefarside.com in 2019 to "help temper the impulses of the infringement-inclined." 
He's Drawing Again
In 2020, Larson began putting the occasional new cartoon on his website. While he swears this isn't a full-on return to The Far Side, calling it "exploring, experimenting and trying stuff," it's a welcome sight to see the occasional cow and caveman from the master himself.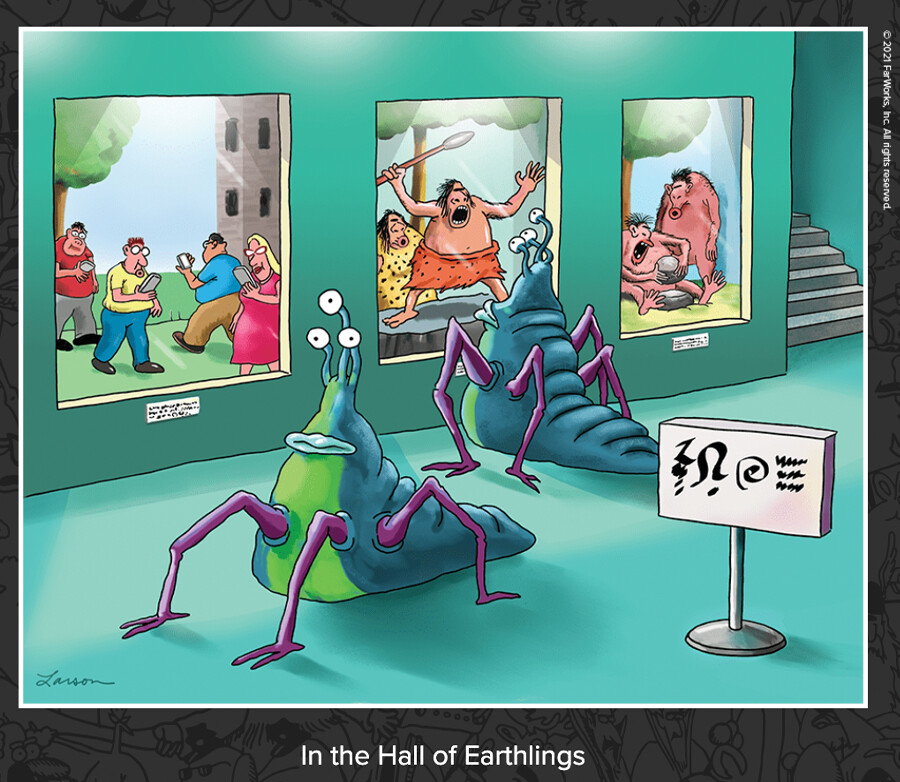 Scroll down for the next article