15 Wild Behind-The-Scenes Woodstock Stories
Woodstock was a turning point in both rock and roll and "naked mud sliding"–induced urinary tract infections. Plenty has been said and seen about the visible parts of the show, but where it really got crazy was the space beyond the stage, which was a chaotic vat of sex, drugs, and electrocution.
Hippies Drove Bob Dylan Out of His House
Lots of people were confused about why Bob Dylan didn't play Woodstock even though he literally lived there, but it turns out it was because he hates hippies. Unaware of this, so many of them went on a side quest to Dylan's Woodstock home that he accepted a gig on the other side of the world to get away from them. They actually annoyed him out of a three-year hiatus.
Roger Daltrey Accidentally Dropped Acid
According to Daltrey, every drop of liquid backstage, down to the ice cubes, was laced with LSD, which he found out when he decided to get all English and make himself some tea. He played the entire set tripping his balls off, which he was uniquely unaccustomed to doing as a '60s rock star, but "looking out unto the predawn gloom of Woodstock, making out the vague shape of half a million mud-caked people as the lights swept over them, I felt in my sleep-deprived, hallucinating state that this was my nightmare come true," he later wrote. The poor guy just wanted a cup of tea.
The Grateful Dead Got Electrocuted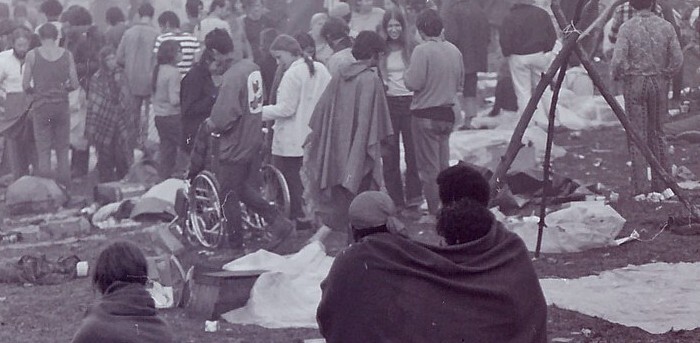 The August weekend of Woodstock was notoriously rainy, suggesting God was with Dylan on the hippies, and combined with an incompetent electrical setup, that spelled danger for the musicians. "We got electrocuted," Grateful Dead drummer Bill Kreutzmann later told Conan O'Brien. "You couldn't get near the microphones without drawing an 8-inch arc of fire," which is way cooler than the Grateful Dead has any right to be.
Sweetwater Had to Go On First Because Vietnam
Sweetwater was famously the first band to play Woodstock (there was even a VH1 movie about it), but they sort of blustered their way into it. They were fairly unknown at the time they were asked to play the show, but the keyboard player had just joined the Air Force Reserves as a bid to stay out of Vietnam and he was supposed to report for duty that weekend, so they said they had to go on first to get back in time. In hindsight, it was kind of like Taylor Swift finding your Soundcloud and asking you to come on tour with her only for you to inform her that she was going to open for you.
Meanwhile, Jimi Hendrix and Neil Young were stuck at the airport after their chartered plane flew into the wrong one. After some brainstorming, Young's lawyer simply stole a pickup truck that was parked at the airport and the three somehow made it to the hotel without getting stuck or even stopped for driving a stolen car. When Jimi Hendrix commandeers your vehicle, you let him.
A Miscommunication Led to Santana Playing Super High
When Carlos Santana arrived at about 12:30 in the afternoon on the second day of the festival, he was told by Jerry Garcia that he wasn't going onstage for more than 12 hours, so he thought to himself, "Well, I could sit around doing nothing for the next half a day, or I could do every single drug." He made the obvious choice, but then, "Two hours after I took it, there was a face in my face that said, 'You need to go on right now, otherwise you're not going to play.' By this time, I was really, really on it, you know? I just held on to my faith and what my mom taught me. I asked, over and over, 'Just help me stay in tune and on time.'"
The Who (Or Possibly Jefferson Airplane) Demanded Sly and the Family Stone's Spot
Sly and the Family Stone were supposed to be the second day's closing act until they were informed that another group insisted on going last because they were "the stars of the show." The Stones acquiesced because "we didn't really care we went," and although they refused to name names, the Who and Jefferson Airplane both ended up going on after them, so just pick whichever one you like least.
Jefferson Airplane's Guitarist Had a "Two Dates in the Same Restaurant" Situation
Jorma Kaukonen might have regretted that closing slot later because, while waiting to finish off the ridiculously delayed second day, he had the additional job of keeping his wife away from his girlfriend, "who had also shown up at the show" unannounced. "My ex-wife used to claim that one of the reasons I played so long was that I was afraid to face her when I came offstage," he later said. "And there could have been some truth to this."
John Sebastian Wasn't There to Perform
The former Lovin' Spoonful frontman decided on a whim to attend the festival as an audience member, headed down to the Albany airport, found no planes going out, and hitched a ride with some friends in their helicopter. He made his way backstage, because he was the Lovin' Spoonful guy, where he was soon approached in a panic by an organizer who needed someone to do an acoustic set while they figured out the rain situation, which is how a guy who woke up that morning with no concrete plans ended up playing one of the most memorable sets at Woodstock.