'The Batman' Continues Hollywood's Weird Trend Of Saluting Conspiracy Theorists
This article contains SPOILERS for The Batman.
It's not unusual for a Batman movie to comment on contemporary politics; like how The Dark Knight was an unsubtle allegory for the George W. Bush presidency, 1989's Batman was a low-key takedown of Reagan's America, and Batman and Robin was a scathing indictment of the weaponized botanical pheromone industry. Similarly, the main antagonist of The Batman (other than natural light) is The Riddler, who peddles online conspiracy theories about hidden cabals that are secretly controlling the government of Gotham City. And he succeeds in radicalizing his (gasp) 500 followers.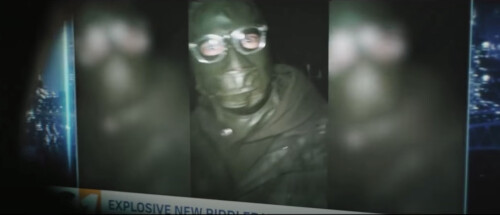 This new take on The Riddler conspicuously calls to mind recent news stories involving waves of toxic online misinformation, such as QAnon. Or the internet conspiracy theories that helped foment the Jan. 6 Capitol riot, which director Matt Reeves has stressed happened after the script for The Batman was written. But the problem is that the character of The Riddler is ultimately right. He does help to expose a complex web of corruption spun by Gotham's shadowy elites. So The Batman is commenting on the dangers of these fringe internet communities while also validating their wild theories? That seems … pretty messed up.