'Seinfeld's Michael Richards And Andy Kaufman's 'Fight' On Live TV

Welcome to ComedyNerd, Cracked's daily comedy Superstation. For more ComedyNerd content, and ongoing coverage of the totally staged Iran/Contra Affair, please sign up for the ComedyNerd newsletter below.
Andy Kaufman might have been the OG troll. As we've written before, he consistently 'performed' for his own amusement. Kaufman's comedy wasn't so much for an audience as it was for him. He was quoted in People during 1981 as saying, "I like the type of humor where nobody knows what's going on, I just want real reactions." And one night that same year, he took his often-disarming act to a half-baked Saturday Night Live knockoff on ABC called Fridays.
And there it met a young Michael Richards pretty much head-on and definitely got a reaction.
Fridays was ABC's attempt to capitalize on the fact that Saturday Night Live's original cast, along with Lorne Michaels, had all departed. There seemed to be an opening to exploit, and they tried to fashion a show in the same, everything-goes spirit.
Besides Richards, the cast featured another key Seinfeld contributor: a young Larry David.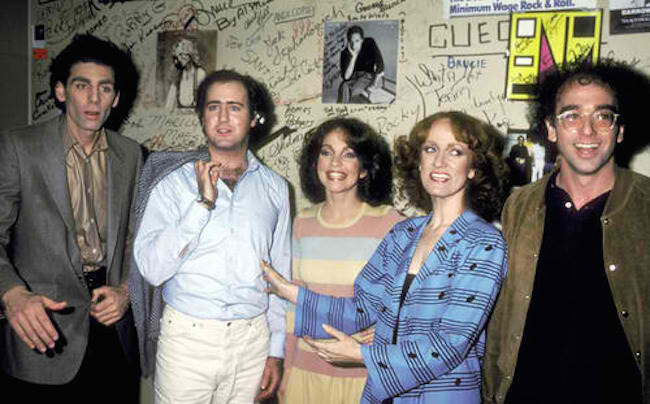 On the night Andy Kaufman appeared, Fridays was not exactly burning it up, as ABC only ordered six and thirteen episodes at a time. In short, the show needed buzz.
Andy Kaufman had appeared on SNL numerous times during the show's early seasons, but new producer Dick Ebersol was not a fan and basically banned him from the show, even going so far as to call him, "not funny." This is the same guy that considered letting Joe Piscopo host SNL as Frank Sinatra so take that for what it's worth.
Fridays executive producer John Moffit thought differently and was more receptive to Kaufman's left-field humor. He went ahead and let Kaufman and his writing partner, Bob Zmuda, do the show's intro about a sword-swallowing act gone "awry," leading to Zmuda coughing up blood as Friday's went to commercial. 
Then Kaufman told Moffit he wanted to break out of character during the show's final sketch. Moffit went along with it, although it's unclear whether NBC ever did. Cast members Richards, Melanie Chartoff, and Maryedith Burrell also knew. However, the crew was never let in on the "joke." Here's how it went down on live television:
And here's how it went down in the Andy Kaufman biopic, Man On The Moon – with Norm MacDonald as Michael Richards!
The whole ensuing 'controversy' over the bit went predictably: ABC was flooded with mail asking whether the whole thing had been a put-on. To Andy Kaufman's considerable consternation, the network stated that it had, in fact, been a charade.
Never one to let somebody else pop the balloon, Kaufman appeared on Friday's a week later to offer an apology, claiming the whole mess had endangered his role on the hit TV show Taxi, and that he'd separated from his wife.
Andy Kaufman was never married.
According to producer John Moffit, the stunt and resultant attention was probably what bought Fridays another season before cancellation. For his part, Andy Kaufman wasn't through throwing glasses of liquid at people on TV before he passed away tragically at the age of 35.
For more ComedyNerd, be sure to check out:
How Joe Rogan Went From Fairly Unknown Comic To Podcasting's Demi-God 
Why Ventriloquists Are Here To Stay (Whether We Like It Or Not)
Has Comedy Reached Its Speed Limit?
Top Image: ABC
Scroll down for the next article