Dad Gifts Are Already At Black Friday Prices
This piece was written by the Cracked Shop to tell you about products that are being sold there.
Your dad has probably talked your ear off about the supply chain issues plaguing the world right now, so don't let him say "I told you so" by ordering his Christmas gift too late. After all, what is even the point if he's not opening it in his bathrobe with a cup of coffee way too early on Christmas morning? (And good luck talking him into recreating the moment.) But don't worry: You don't have to wait until Black Friday to get great deals. We've rounded up a bunch of gifts for dad available at early Black Friday prices. Just use promo code SAVE15NOV to get an extra 15% off and save Christmas.
$100 Restaurant.com eGift Card, $15.30 (reg. $100) with promo code SAVE15NOV
Your pops deserves a nice night out, and if you can't always be around to take him out for one, you can at least foot the bill. With a Restaurant.com gift card, he can earn points and discounts by just going to his favorite places, from IHOP to Old Joe's Flappy Jacks (probably).
BAKBLADE 2.0 Plus DIY Back Hair Removal & Body Shaver, $25.49 (reg. $39) with promo code SAVE15NOV
If your mom is always complaining about your dad's natural fursuit, get the gift that pulls double duty with this innovative tool for solo back-shaving. You do still have to get her another gift, though.
SmokeTop Cocktail Smoking Kit, $67.99 (reg. $89) with promo code SAVE15NOV
Help your mixologist dad bring out deeper flavors in his cocktails with this kit's smoke infuser, premium flavored chips, and torch lighter so he can feel like Don Draper and Guy Fieri at the same time.
Brocchi Men Waterproof Trimmer, $30.56 (reg. $41) with promo code SAVE15NOV
If Dad's been binging Queer Eye and thinking about doing some extra grooming, this trimmer will help him do it with expert precision. Just don't ask him where he's going to use it.
ChargeHubGO+ All-in-One Power Bank, $29.99 (reg. $39.99) with promo code LIMITLESS25
If you're starting to suspect that your dad is dodging your calls, this innovative power bank will thwart all his lame "my phone died" excuses. It has a wireless charging pad, a USB port, and two built-in charging cables with 5,000mAh battery capacity, and it's just about the size of an iPhone, so it's not like it won't fit in his enormous pockets.
Ninja Dragon Dual 4K Wide Angle 3D Flip Quadcopter, $84.15 (reg. $169) with promo code SAVE15NOV
If dad won't shut up about getting a drone, finally make his day by getting him one for the holidays. This 4K drone is relatively easy to fly even for beginners and captures incredible footage in real-time.
Fremont Wood Fire Pizza Oven, $190.50 (reg. $368) with promo code SAVE15NOV
We know your dad loves a good pizza party because everyone loves a good pizza party. Let him have one anywhere with this portable pizza oven that gets burning real hot real fast and sets up quick so dad just has to make the dough, dress it up, and toss it in. (Chef hat and terrible accent not included, unfortunately.)
PhiGolf: Mobile & Home Smart Golf Simulator with Swing Stick, $194.65 (reg. $249) with promo code SAVE15NOV
If your dad is the type who just can't choose between hitting the links or the cabin in the mountains, PhiGolf allows him to work on his swing in any climate or season. The app casts to a big screen and comes with a swing stick to let dad play some of the world's most famous courses from wherever the heck he wants.
SUV Car Tent, $212.49 (reg. $269) with promo code SAVE15NOV
You know your dad has always wanted to go on a sweet family road trip, so make the commitment by giving him this tent that can turn any SUV into a portable living room. It gives you an extra 36 square feet of living space out in the wild so you can commune with nature and also catch the game without any jerk squirrels giving you the business.
The EVE, $509.99 (reg. $699) with promo code SAVE15NOV
Dads know real chefs grow their own herbs, so help yours out with The EVE, a modern hydroponic garden system that's designed to fit in even the tightest spaces. Don't deprive him of the luxury of explaining "It's the fresh oregano" when you compliment his latest creation.
Passport 30W Global Travel Adapter, $29.74 (reg. $59) with promo code SAVE15NOV
If your dad is more the Travels With My Father type, make sure he can stay connected wherever he is. This Good Design Award-winning adapter packs a four-port USB charger with 30W power delivery, a universal travel adapter, and a power adapter into a single unit. It lets you charge up to five devices at once in more than 200 countries, so he's gonna have to really go off the beaten path if he wants to complain that it doesn't work. It's a win-win for him, really.
Universal 63W USB-C Fast Charging Power Bank, $37.49 (reg. $69) with promo code SAVE15NOV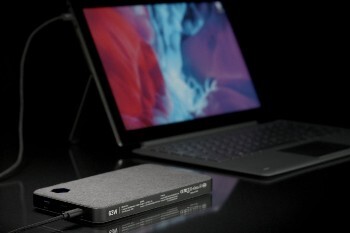 If dad needs something with a little more charging power, this universal power bank has a USB Type-C port and cable and two USB-A ports for simultaneous charging and 63W of total output, making it suitable for charging laptops and other large devices faster than he can say "You've always been my favorite."
Prices are subject to change.