Useful Gizmos & Gadgets You Can Get On Sale
This piece was written by the Cracked Shop to tell you about products that are being sold there.
No, unfortunately, this is not a Gizmos & Gadgets! thinkpiece. Instead, it's a resource for you to save some money on practical tech that you might just use every single day. That's a silver lining, right? Check it out.
ChargeHubGO+ All-in-One Power Bank
MSRP: $39.99
Sale Price: $29.99 (with code LIMITLESS25)
Keep all of your devices charged up on the go without having to worry about extra wires or bulk. This clever power bank has a wireless charging pad, a USB charging port, and two built-in charging cables compatible with microUSB, Lightning, and USB Type-C devices.
Ocushield Anti-Blue Light Screen Protector for iPhone 11/XR
MSRP: $46
By the time millennials are in their sixties, they're all gonna have ocular degeneration because of all the blue light from their screens. Give your eyes a fighting chance with this anti-blue light screen protector.
VogDUO Triple-USB Travel Wall Charger
MSRP: $59
iPhoneLife calls this baby the "ideal travel charger" for good reason. At half an inch thick, this supremely portable charger still can charge three devices at once with an impressive 30W for faster charging.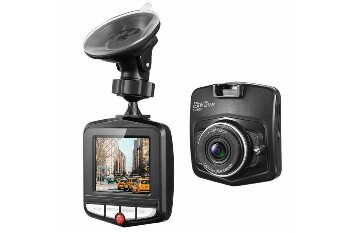 MSRP: $79
Dash cameras are cool for recording your scenic drives, but they're also incredibly useful in the event of an accident. This clever device turns on automatically when it detects a potential collision and stores the footage safely in the cloud. It's like having an expert witness always at the ready or just a handy way of recording any cute dogs crossing the street.
Ucam Private Home Security Camera by IoTeX
MSRP: $59
Got stuff worth protecting? The Ucam won 2020's CES Innovation Award for Cybersecurity and Privacy because it's the first indoor home security camera with 100% privacy powered by the IoTeX blockchain. Unlike other security cameras, Ucam gives you exclusive ownership of all of your data so you don't have to worry about that FBI agent peering into your home in addition to your text messages.
Photo Backup Stick(R) Universal (64GB)
MSRP: $89
Always taking photos and running out of space on your devices? This backup stick is an all-in-one picture and video backup tool for computers and phones so you won't ever have to delete anything. It works with all types of devices allowing you to offload pictures and photos to the stick for nostalgic revisiting, blackmail purposes, or whatever reason you need to keep them.
Wireless Charging Dock for iPhone, Apple Watch, & AirPods
MSRP: $146
Everything's going wireless, so it's about time you had a charging dock for charging all of your wireless things together. This baby might look like a mousepad, but it's packed with power to charge your iPhone, Apple Watch, and AirPods all wirelessly and at once so you don't have to keep track of them like sleek but errant children.
XIM Apex Keyboard & Mouse Controller Adapter Converter for Gaming Systems
MSRP: $124
Get extra into your gaming with the XIM APEX. This system uses smart translator technology to provide unparalleled one-to-one gaming precision that will make you go absolutely HAM in the game. It works great on Xbox One, PlayStation 4, Xbox 360, or PlayStation 3.
Radacat C2 Messenger: Off-Grid GPS Tracker (2-Pack)
MSRP: $289
Don't go off-grid without a Radacat. This ingenious device acts as a GPS tracker and emergency beacon so if you lose service out in the wilderness, you can always reach help. It's peace of mind for your loved ones and your legs if you get caught in a 127 Hours situation.
Prices are subject to change.