It Looks Like 'Loki' May Be The True Heir to 'Lost'
The first season of Loki wrapped up this week with an episode that did nothing to dispel our "Loki is really about working for the Walt Disney corporation" theory -- it literally ended with a trip to a magical castle and an all-powerful ruler standing in front of a window that formed a "hidden Mickey." You see it too, right? Right?!
But Loki's biggest surprise was that it turned out to be … an actual TV show. While the other Disney+ Marvel shows ultimately felt like elaborate stopgaps between tentpole movies, Loki actually ended with a cliffhanger and the promise of a season two, not just a teaser for a Benedict Cumberbatch movie. And it turned out to be a pretty great mystery series. Sure, the revelation that the mysterious inhabitant of the Kafkaesque castle at the end of time was a variant of Kang the Conqueror (possibly Immortus) could be seen as merely a means to tee up the next phase of the MCU. But for all of its narrative puzzles and fantastical plot twists, Loki may have inadvertently accomplished something TV shows have been trying to crack for more than a decade; becoming the next Lost.
Regardless of how you felt about Lost and its often-maligned (not entirely fairly, mind you) finale, it inarguably captured the TV viewing public's imagination like few shows have since. As the mysteries of Loki slowly unfolded, it too ended up being a real water cooler show -- if not for the fact that so many office workers are Zooming in from home right now (and even those that aren't, probably shouldn't be congregating at the water cooler anyway).
In just one season, Loki ended up playing a lot of the same high-concept notes that Lost did; most notably, both shows ended with a mysterious dude wanting our heroes to take his place as some kind of mystical guardian.
Oh, and that same dude ends up getting stabbed to death, which may have some not-so-great consequences.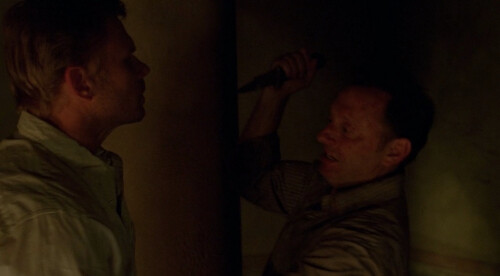 And before that, Loki and Lost both featured retrofuturist secret societies, parallel realities, characters being awoken to their true selves and, of course, wacky time travel plots -- not to mention the fact that both shows gave us literal smoke monsters.
Obviously, these shows are quite different in a lot of ways; one takes place on a tropical island, the other in a Marriott Hotel, for example -- but they sure seem to share a lot of creative DNA, unlike the laundry list of other shows which have attempted to claim the "New Lost" throne and failed miserably. Why did Loki succeed where others didn't? Because so many other sci-fi dramas strived to replicate Lost's most superficial aspects. We've gotten multiple Lost riffs about a freaky plane accident like The Event, the recently-canceled Manifest and Flashforward, which literally just cast actors from Lost whose characters had already been killed off. And the whole "mysterious island" thing was likely forever killed by Netflix's cringeworthy Lost clone The I-Land.
And sure, there may have been other, perhaps even better, sci-fi TV shows since Lost went off the air -- but television has become increasingly decentralized since then, and few shows have had even a chance to replicate what Lost did. Under the Marvel banner, Loki has the potential to become the zeitgeist-dominating mystery show a lot of us have craved for the past 10 years. At the very least, giving people something to chat about with co-workers they have nothing in common with while hydrating. 
You (yes, you) should follow JM on Twitter! And check out the podcast Rewatchability.
Top Image: Marvel Studios