6 Questions About How The X-Men Function In Everyday Life
The X-Men are always using their superpowers to fight supervillains and save the world. That's a noble cause, I guess. But there has to be a break between all those heroics, right? And it's not like their powers disappear when there's not a crisis. Beast can't exactly go home and take off his fur the way Spider-Man hides his suit in a crawlspace. Or Kitty Pride can't be caught on the local news walking through walls and not expect every 7-11 shopkeeper to be on high alert when she's trying to get a Big Gulp and some taquitos. So what is being a mutant really like day-to-day?
For the sake of time, I'm going to limit this exercise to the live-action X-Men movie portrayals. There's far too much comic book lore that addresses these questions already. So I'm sticking to my beloved X-Men films, the movies I'm both enthralled by and can reliably use as insomnia cures. A thoroughly nonsensical franchise. That I can't stop watching and thinking about. Shut up, you're not my therapist, I'm allowed to think about X-men as much as I want, and now you have to read about it. 
How Does Quicksilver Decide When It's Time To Unwind?
The power:
Quicksilver is ... uh ... quick. Like, faster than a speeding ... something. His defining scene is in Days Of Future Past where he moves so fast he can push literal bullets off their trajectory. And bullets are ready speedy! He also can play table tennis against himself and watch TV while also beating Pong (which seems a little redundant, now that I think about it). His power is basically endless running. 
The effect on normal life:
 When does Quicksilver get tired? Personally, I'm tired all the time. In my early-to-mid twenties, I used to do weekly five-hour, full-court pickup basketball games. Now, as a 33-year-old father who writes for a living, I'm lucky if I can get a sitcom's length of game in half court without risking a coronary. When does Quicksilver decide he's done enough running? 
The actor who plays him, Evan Peters, is perpetually 21 years old, so let's assume Quicksilver has some youthfulness. Doesn't sprinting around a room still wear you out? Does he ever, like, twist an ankle? Professional athletes suffer career-ending injuries out of nowhere, and they're the closest thing we have to real-life superheroes. Does Quicksilver ever need a wine bath? Or a spa day? Is there someone at Xavier's School who does ankle wraps?
Ugh, now I'm missing my pickup basketball days and wishing I had Quicksilver powers. Speaking of pickup basketball:
How Much Honor Does Nightcrawler Have Playing Sports?
The power:
Teleportation. We all know what teleportation is, right? Nightcrawler teleports. Now you see him, now you see him over there. Now you see him over there. Now you see him OH NO NOW HE'S KICKING YOU. Not to mention he has serious hops. 
The effect on normal life:
In the first X-Men, Wolverine gets a tour of Xavier's School, and the first shot we see is a kid blatantly cheating at basketball. He doesn't look like Nightcrawler, but he's clearly a teleporter. I'm not so much of a nerd that I know who that dorkass white kid cheating at basketball is, BUT I am enough of a nerd to wonder if he is a full character with a comic book arc where he plays for the Harlem Globetrotters. If that arc doesn't exist, dibs on the pitch, no takesiebacksies, Marvel get at me.
Seriously, it makes me wonder how mutants actually play pickup sports. The temptation for cheating has to be overwhelming. In the clip above, one kid yells "hey no powers" which only makes me think about what powers can be used for. Angel would be an incredible shot blocker in basketball. Storm could very easily affect football or baseball games. Of course, Pyro would absolutely ruin hockey. 
So how do mutants maintain integrity when they're playing sports? Let's assume the "no powers" rule always applies, sort of like "call your own fouls." Everyone who has played pickup has played with some asshole who abuses the honor system. How are these rules enforced? It's not exactly a White Men Can't Jump situation, where you have to go to your car and get a gun. If you're Cyclops, you can just take your Horace Grant-style goggles off and blast anyone who breaks a rule. Or Magneto could literally lift the stadium off the ground, the ultimate "take my ball and go home" move. Refereeing mutant sports has to be a nightmare.
Does Mystique Ever Ask Her Partners Who Their Hall Pass Is?
The power:
Mystique can transform into anyone. She takes on their physical appearance and walks around completely undetected, even nailing the voice. She's an extremely quick shapeshifter. It's a skill with all kinds of uses in, say, espionage, bank robbing, or spicing up your sex life. Hang on, what?
The effect on normal life:
Being the exact opposite of a nevernude, it's no wonder Mystique's sexuality comes up in these movies. But two examples lead to interesting ethical questions: 1) when Magento says he wants "the real Raven" in First Class. and 2) when she morphs into Jean Grey to seduce Wolverine in X2. 
It's a tricky conversation for any relationship: who's your "hall pass?" Basically, is there someone so enrapturing, so seductive, so otherworldly that you'd have no problem with your partner sleeping with them? A "sorry, I met Beyonce/Harry Styles and one thing led to another" or even a "listen, my weekend retreat in Montana was great, but I did happen to run into Jeff Bridges at a bar and you know ... " I If you need a further deep dive on the concept, you can check out an Owen Wilson movie I can't believe I remember despite having never seen. Mystique is in a unique position to be both the person having sex and the physical embodiment of the hall pass. She can transform into anyone. Would that be a fun roleplay thing? For whom?
There's also the issue of Mystique herself wanting to have sex as another person. Would that be a sign she has body image issues, or just an adventurous kink? How violating is it to the person being impersonated, if they ever even found out? Maybe Mystique wants to get down as a woman she finds attractive. Maybe she wants to explore what it'd be like to have sex as a man. Maybe it's her partner asking for either of those things. 
What does that do to both parties, psychologically speaking? You'd have to be in a pretty stable/adventurous relationship to make that work without it exploding a million unexpected feelings of jealousy, hurt, and insecurity. How far is too far? Why don't we have a rom-com or a Fatal Attraction-style thriller with Mystique in the lead role? Wait. Forget I said anything, I'm calling dibs on that screenplay, too. 
Can Cyclops Wink?
The power:
Cyclops shoots lasers out of his eyes. Life-ending, wall-exploding, your-bunghole-after-a-habenero-burrito-at-Taco-Bell fiery lasers. It's usually portrayed as uncontrollable, unless he really really clenches his eyes shut. But dude is just a wild fountain of lasers without his trusty glasses and/or visor. The visor is a pretty neat invention, because it controls the laser, rendering the exploding chaos into a thin, concentrated beam. That's what I want to, *ahem*, focus on. 
The effect on normal life:
This entry was inspired by Cracked.com editor Logan Trent, who made me realize that every time Cyclops's glasses/visor are taken off, he either has to shut his eyes really goddamn hard or it's an uncontrollable burst of lasers. But can he close one eye at a time? His sunglasses let him go out in public, his visor has controls for the laser beam, but can he wink? Or maybe even squint, narrowing the laser beam?
Logan's proposal is a precision blast to unclog a toilet, which would be insanely useful. Nobody likes touching plungers, and it'd be super rad to just laser your shit and excess toilet paper into oblivion. I'm also wondering about pipes in general: could Cyclops precision-cut through drywall to clear out my backed up dishwasher? Like cut a perfect square into my wall, open up the dishwasher pipes, and clear out whatever's going on in there so I don't have to call a plumber? This is serious. Shut up and move on to the next entry? Ok fine, but I'm not going to stop talking about kitchen things. 
How Did Toad Deal With Unruly Diner Customers?
The power:
Toad has, well, toad powers -- a lightning-quick long tongue, a great vertical leap, and the ability to squat for longer than ten seconds without having sore knees. Unfortunately, he also kinda looks like a toad -- all greasy and slimy and sickly green. Like Mystique and Beast and Nightcrawler look unusual, but not so weird you can't get used to them. Toad is different. He looks like how when cartoons want to show someone feeling nauseous their face turns pale green. He's not exactly nailing the first impression at a job interview, no matter how tailored his suit is. Days of Future Past shows him working the only job where looking like you've got a newly mutated strain of jaundice is fine: a short-order cook at a greasy diner.
The effect on normal life:
 There's a great scene in True Blood where some homophobic jerks worry that their burger "has AIDS" because it was cooked by Lafayette, the unapologetically gay line cook at whatever that bar was called. Bar? Bar and grill? Must've been a bar and grill. But not like Applebee's. Not a chain. I have mostly forgotten everything about True Blood. It was not the show with Woody and Rust, I'm pretty sure. This scene is rad, though: Lafayette takes out his earrings, righteously yells at the ignorant hicks, and beats the shit out of them while the other restaurant patrons cheer.
Did Toad ever do anything like that? Did someone make fun of his glasses, or complain their burger tasted like frog legs? Someone must have said something. Just look at that unsettling amphibian. It's important to be nice to restaurant workers, they work very hard and you shouldn't be a Karen, but Jesus that guy looks like a walking health code violation. 
And then what did Toad do? He could leap over the counter and kick the customer in the teeth. He could shoot his tongue out and eat their food in one bite (but still charge them). He could ... *searches for third thing Toad can do* ... kick them again, but harder this time.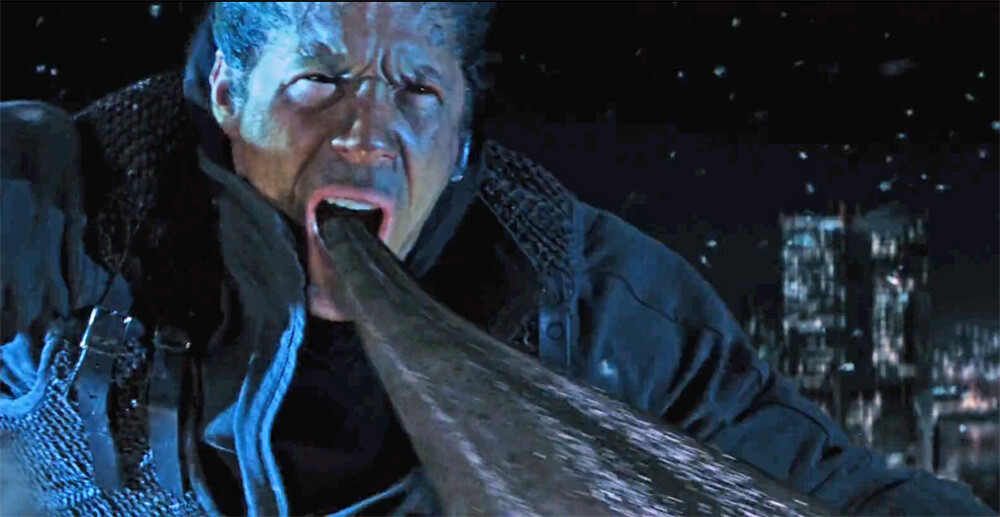 What I'm saying is anti-mutant sentiment in X-Men is explicitly designed to mirror anti-LGBTQ sentiment in real life, and Toad had to have dealt with some dickhead restaurant patrons at some point. Another customer would probably get it all on video and make Toad a viral sensation. Maybe that would be a boon to the restaurant. Like it becomes a tourist attraction or something. "Come watch the frog cook win a hot dog eating contest." Maybe they could take inspiration from Chicago's legendary shit-talking hot dog stand Weiners Circle and design a whole restaurant around getting your ass kicked by Toad. I'd watch a Chef-style movie based on that premise. 
Did Beast Ever Catch Anyone Using A Lint Roller Around Him?
The power:
Beast is strong, fast, and agile. He has incredible hops (I'm beginning to think we could get a great dunk contest out of the X-Men). He's a confused mix of non-human ape and big cat, giving him sharp claws and teeth, but also King Kong tendencies. He's also a genius-level intellectual with a strong sense of decorum and dignity. Vacillating between violent, animalistic tendencies and ultra-politeness? No wonder they cast Kelsey Grammar. 
The effect on normal life:
The cost of all of Beast's powers is that he's blue and super furry, and being Very Dignified is hard to do when there's visible shedding happening constantly. Visibly shedding blue, too -- if Beast's hair gets on you, you're not going to politely blame it on your cat or dog. Not even your CatDog. It's Beast hair that's on you. But do you brush it off in front of him?
Here's the scene: Beast is in a meeting, maybe a Cabinet meeting, and maybe the air conditioning is blowing exceptionally hard. And the Secretary of Defense or whatever gets some long, blue hairs on his slacks. It's suuuuuper noticeable. And the Secretary has a meeting with some diplomats or whomever right after this. So he pulls out a lint roller and discreetly wipes off the blue Beast hairs. Except he's not so discreet! Beast sees him, and takes a tremendous amount of offense, probably saying something like "you rude, uncouth scoundrel! How dare you! Not since Benvolio bit his thumb at Tybalt has a man been so thoroughly insulted!" Then he beasts out and claws the dude's face off.
Seriously though, that has to be demeaning. You're the only furry in the room, and this guy's is acting like it's a problem. What happens next? Does Beast maintain composure, silently tamping down the microaggression because he's worried about being treated differently in the workplace as an "Angry Mutant?" Or does he lose it and rip the guy's head off? Imagine Dave Chappelle's "When Keeping It Real Goes Wrong" except it's Beast. The world has shown itself over and over again to be openly hostile to mutants. Yet here Beast is, trying to improve mutant-human relations anyway. It'd be at least somewhat justifiable, wouldn't it, ripping that dude's throat out for using a lint roller? I don't necessarily have an answer. But if it happened tomorrow, you can bet it'd be the headline entry in our 2045 article, "6 Insane Times Mutant-Human Interactions Interfered With Government." Dibs on writing that one, too. 
Chris Corlew eventually got his dishwasher fixed. For more banal complaints and superpower thoughts, you can find him on Twitter, podcasting, or writing songs.