Memorial Day Is The Time to SPLURGE
This piece was written by the Cracked Shop to tell you about products that are being sold there.
Memorial Day means two things: honoring the soldiers who have given their lives in service of their country and celebrating the way of life they fought to protect, i.e. capitalism. To help you get into the spirit, we've rounded up some of the biggest sales on all kinds of practical items and splurges that you wouldn't buy at full price. If you don't act now to get these deals while they last, you're basically saying you hate America. Plus, Father's Day is coming up. Just saying.
Bamboo Comfort Luxury Sheet Set
MSRP: $119
Sale Price: $38.99
The weather's getting warmer, so don't spend the summer letting your thick winter bedding turn you into a gross puddle. Instead, stay cool, comfortable, and less sneezy and rashy, too, with these hypoallergenic and luxuriant bamboo sheets.
TREBLAB Z2 Bluetooth 5.0 Noise-Cancelling Headphones
MSRP: $259
Sale Price: $78.99
These noise-canceling Bluetooth headphones claim to offer twice the noise cancellation, twice the battery life, and twice the sound as competitors for half the price. They really like factors of two.
Nordic Hygge AirChill: Personal Evaporative Cooler
MSRP: $99
You don't have to give up that hygge Nordic lifestyle just because it's about to get hotter than a Brazilian thong. This four-in-one solution cools, humidifies, and purifies the air and offers a seven-color LED light to set the mood while the high-speed nine-blade fan cools you down rapidly so you can cuddle all the chunky knit blankets your heart desires.
MSRP: $200
Sale Price: $149.99
If you're scrambling to get in fighting shape after a long, socially distanced and comfort-food-filled winter, work out all those post-exercise knots with this handheld massager. It has six strength levels and six interchangeable heads to target specific parts of your body, whether you need a light massage or a good, nonsexual jackhammering.
Global Drone 4K Platinum Version
MSRP: $119
Sale Price: $109.95
If you ever wanted to be a drone person, now's a great time to do it. This baby records in 4K HD, has cool features like headless mode, can do flips, and currently sells for under $100 for the holiday. Honestly, we don't know what more you want.
GrillGun: The Ultimate Grill Torch
MSRP: $172
Let's get it straight right now that this is not a toy, even though it looks really, really fun. It's a serious tool for lighting charcoal or wood stoves with exquisite speed and letting you pretend to be the Human Torch while you do it.
Paula Deen 1700W Stainless Steel 10Qt Digital Air Fryer
MSRP: $299
Sale Price: $159.99
If you can't beat the people constantly talking and memeing about their air fryers, join them. This family-size air fryer comes with ten preset options, so even a culinary illiterate can figure out how to make a healthy fried Oreo. Well, healthier.
AIR-C + HEAT: Full Leg Massage + Heat Treatment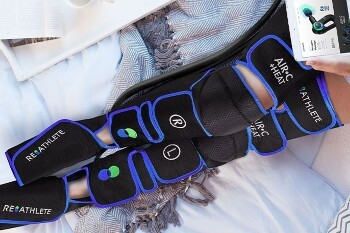 MSRP: $189
Sale Price: $169.99
You're probably going to be doing a lot of hiking, biking, and other stuff with your legs in the coming months, so give them a rejuvenating massage with this complete leg treatment. Adjust the compression massage to target specific areas and turn on the heat to roast the pain away.
EvaSMART 2: Smart Personal Air Conditioner
MSRP: $269
Sale Price: $199
Blasting the A/C and paying hundreds on your electric bill every month ain't it, as the kids say, so trust this personal device that uses natural evaporative cooling to remove moisture from the air and lower the temperature of your immediate vicinity. You don't wanna have that kind of hot girl summer.
PhiGolf: Mobile & Home Smart Golf Simulator with Swing Stick
MSRP: $249
Just because it's nice outside doesn't mean you have to go out there. This golf simulator lets you link up to your TV so you can virtually play some of the world's most famous courses without ever risking seeing another human.
Tuxton Home 10-Piece Stainless Steel Housewarming Cookware Set
MSRP: $415
Sale Price: $219.99
This complete set includes two saucepans and lids, an 8" open nonstick frypan, an 11" nonstick frypan with lid, and an 8-quart stockpot with lid and steamer insert. Just be a grownup and get it already.
Firepod: Portable Multi-Functional Pizza Oven
MSRP: $400
Sale Price: $349.99
Dining al fresco is the name of the game when the summer heat threatens to turn your entire kitchen into an oven, but don't suffocate under a heap of different tools when this ultimate cooking device does it all. What do you want? Pizza? Steak? Ribs? Steamed veggies? Freaking marshmallows? This convertible, portable pizza oven/barbecue grill/hot rocks cooker has you covered. And isn't it nice to know that someone does?
Prices subject to change.